I chose my profession for a number of reasons but the main reason was that one day, I hoped to have children. If that hope came true, I could work at home like so many accountants do and be a part of my kids' daily lives. I didn't know it at the time, but my profession went digital and I was able to spend five years working from home, entirely online except for the occasional work weekend in Vancouver. I was living the dream!
The Dream was work that fell on the weekends, which was neither here nor there when my kids were babies and preschoolers. As much as I have been clawing at Time to stop, I cannot control it and my kids are all in full-time school. I went back to work in an office almost two years ago (!) and while I love my coworkers — I've known most of them for ten years, before I ever birthed babies — I miss being the parent to greet my kids at the end of the day.
My firm was on four-day work weeks for the past three months and I had Tuesdays off. Tuesdays were my FAVORITE. Sleeping in, morning snuggles, and afternoons at the beach. This past Tuesday saw me with a day off while all three kids were at school. I sat down, uninterrupted, and got caught up on freelance work, home office work, and groceries (we like to eat). When the clock told me that the bus would be dropping the kids off in the next ten minutes, I went out front and sat on the hill with a magazine and my iPhone (of course). Before I knew it, they were scrambling up our driveway, chattering away and they even obliged their Mom with a photo.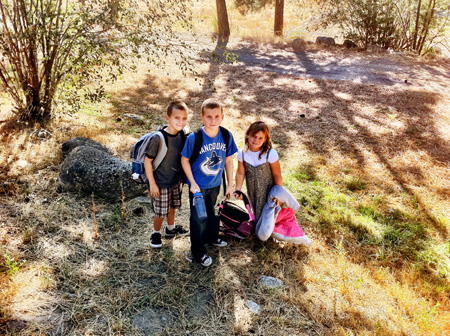 I sent the photo out into the Interwebs with this caption: In my perfect world, I'd be here to greet them after school *every* day.
I mean it. It would be the perfect world for me. I just need to figure out how to make that happen.
comment via Facebook
comments