Not the BlogHer contest. Did I freak you out? Hahaha! I'm tricky like that.
The draw is on Tuesday. If you would be so kind, please keep clicking, you clickety clickers!
The wonderful Hannah over in New Zealand tagged me with a meme that I can sink my teeth into. This one's not only about me, it's about other sweet bloggers too.
She tagged me with the Power of Schmooze Award.

It's better than it sounds! It doesn't mean that I am a cheesy used car salesman in a loud sport coat (or Don Cherry for that matter). Here's the definition of the award:
Good schmoozers effortlessly weave their way in and out of the blogosphere, leaving friendly comments, happily making new friends along the way.
I think it applies to me. I am a bit of a comment-crazy girl, though I haven't had time lately to comment as much as I'd like to. I do have three kids with bums that need wiping on a constant basis. And then there are the toilets to clean, etc.
The whole "words of affirmation" thing applies to me in most areas of my life, including this little corner. I like to receive encouraging words, and I love to give them even more.
Now for the Schmooze rules:
* If, and only if, you get the Thinking Blogger Award or The Power of Schmooze Award, write a post with links that make you think, or have schmoozed you into submission.
* Link to this post and Mike so that people can easily find the exact origin of the meme.
* Optional: Proudly display the "Thinking Blogger Award" or the "Power of Schmooze Award" with a link to the post that you wrote.
And now it is my turn to hand out the Schmooze Award to a few of my well-deserving fellow bloggers. This was a bit hard, because I hate making anyone feel left out. You all rock, but I have to narrow it down to three. Here goes.
1) Kami over at wer4.
Kami and I both do contract work for the same organization, but she lives in Regina, SK. We met a year ago March at a work weekend in Vancouver and hit it off immediately. I was about nine weeks preggers with Emily and missing my boys. She has two sons around the same age as my two, so we had that in common amongst a thousand other things. She is a witty woman with a big heart and who loves her husband and family as much as I love mine. I often sit here nodding my head in agreement with what she has written. I only wish she lived closer so that we could have a play date. Or twenty.
2) Kristin over at The Foulds Family
Kristin and I have never met, but I think we have friends in common. I think. I don't know how she started reading me, but she started commenting, and I quickly added her to my links and feed reader. I enjoy seeing the beautiful pictures she takes of the adventures she goes on with her hubby and adorable little girl. Kristin is another encourager and leaves me lovely comments on every post. She brightens my every day.
3) Marci over at LVGurl
Marci somehow ended up at my site a few months back (probably due to my incessant commenting all over the place) and is a sweet girl who gives me sweet comments all of the time. She is another SAHM Domestic Goddess who blogs in her "free" time. I see her name in other peoples' comments quite often as well, so I think that she deserves this award. Plus, she lives in Las Vegas where it's even HOTTER than here, so hopefully this will take the edge off of the heat. I hope our paths cross in real life some day. Maybe a girls' weekend in Vegas? Hmmm…
Go give these ladies some comment lovin', will ya?
I would also like to give an honourable mention to Michele. She doesn't have a blog of her own, but leaves encouraging comments on every single post I write. She deserves a mention for being such a consistently uplifting commenter.
Nothing like spreading the love to kick the "mehs" in the hiney. Her Royal Meh-ness has been dethroned. Not to be confused with Her Royal Menace…which I have also been known to resemble. Especially when I see fit to pour cold water on Honey while he's in the shower. I'm sneaky like that.
The beach didn't happen yesterday. Graham's cold moved into his tear ducts and he now has fluorescent green boogs pouring from his eyes. I'll spare you a photo. He's happy, but contagious per Dr. J, so we've been laying low.  Literally; it's cooler on the floor.
Another day brightener to attack the "mehs"? Nathan, King of Bedhead. See for yourself: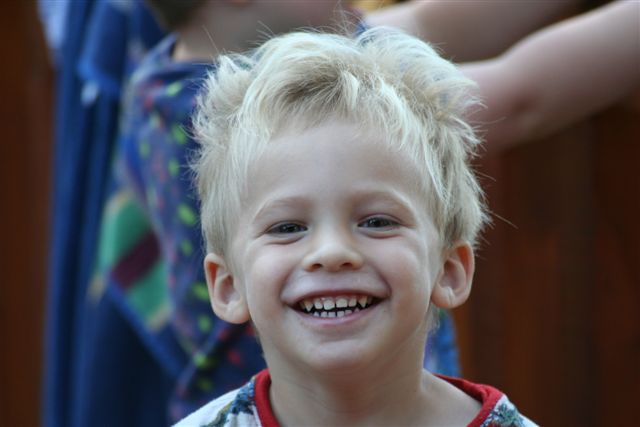 His hair makes me smile every morning. He's in dire need of another haircut, but each time I do it he puts up such a fight that I'm afraid I'll cut his ear off. Maybe I should buy a flowbee. (I thought it was just an old SNL skit – I didn't realize it actually existed!)
Some days I don't even fix his hair before we go out. Never mind the breakfast that is still clinging to his upper lip…and boogers that are crusted under his nose.
I'm a good Mommy like that.
comment via Facebook
comments