We all want to get the 'money shot' when taking photos of our kids. We know that they're beautiful, but sometimes our photos don't quite capture how beautiful they really are. There are a few easy things that you can do to take your snapshot from a picture to a photo.
1. Use Whiskey
No, not the beverage; the word. Unless, of course, a shot of whiskey is your thing. If you try to make your kids smile by telling them to say "cheese" their smiles will look, well, cheesy. If you have them say 'whiskey' (or 'monkey' if you have an adverse reaction to whiskey), their smiles look more natural.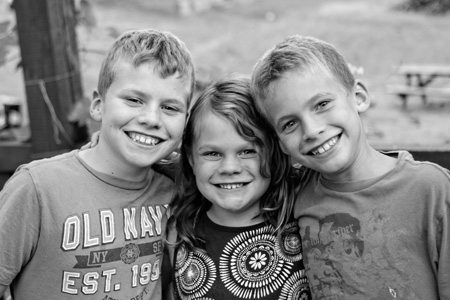 2. Shoot Them (Off-centered)
The technical term is "Rule Of Thirds", but the gist of it is this: You do not want them right smack in the middle of the frame. Move them to the right or left of center and you will have a shot that is instantly better.
3. Fill The Frame
If you are hoping to capture a good portrait of your child, their feet do not need to be included. Fill a large portion of the frame with their face. To get an even more dynamic shot, crop out the top part of their head.
4. Catch Them When They Aren't Looking
We all seem to be programmed that the best shots are the ones where our child is looking at the camera, smiling the perfect smile, and showing the world how adorable they are. Sometimes, a great photo of them occurs when they are not even aware that you are snapping their photo.
5. Break All Of The Rules
Now that I have told you the above four tips, I am going to tell you to ignore them every once in awhile. Try different angles, different perspectives, different crops. You may end up with a photo that is timeless.
* Originally posted at The Bad Moms Club
** Photos updated from this summer's collection, mostly from Cannon Beach
comment via Facebook
comments