Yesterday morning I received an email with the title, "The No-Baby Boom: Living Child Free." It didn't go to spam as most, uh, spammy emails go so I thought I'd give it a read. The first paragraph alone was enough to let me know that they had most definitely not sent an email to their "target" audience.
I thought you might be interested in this article from our April issue where we explore the new breed of non-breeders: Worried that kids might screw up your relationship and life? You're not alone—a growing number of couples are choosing to live child-free…
They must read my site! All I do is write about my child-free life and how I worry that children will screw up my relationship and my life!
It just got better from there. They told me how much it cost to put kids through post-secondary education. Bright side! If my kid mastered in Male Sterilization, we could get a good return on our investment. Because NOBODY'S HAVING BABIES ANYMORE.
And then there were the stats. The stats!
(For someone with an accounting and economics educational background, I can tell you the I think statistics are a bunch of baloney. Your "representative sample" may not (and often isn't) representative.)
1990: 65% of Adults said that children were very important for a successful marriage
2007: 41% of Adults said that children were very important for a successful marriage
Oh, how neat. Kids are screwing up your relationship and life at increasing rates. We should all stop having kids. Because kids are horrible and awful and money suckers and LIFE RUINERS. I should know this already, article aside, because I WAS A KID ONCE.
Oh, wait.
They're right. My kids have ruined my life. How have they done so? Let me count the ways:
They are going to bleed my bank account dry. Because I have no idea how to use coupons or shop sales and thrift stores and stretch my dollars. Because the meat my husband harvests from hunting and the fruits and vegetables we harvest from our garden are so horribly expensive. Because I won't ever make them get a job and teach them how to save for the future and for their education. Because I'd much rather have them leech off of me and live here until they are forty. Because I am an idiot/sucker.
My money is not my own! I can't do whatever I want with it! I get to spend it on my mortgage and my work clothing and my groceries and my car insurance like I did before kids and, well. You can see how my world has changed.
All of the potty talk at the table. Someone rips a fart and/or uses a cucumber to make a phallic joke. Just a sec. That's all led by my husband. Never mind.
My relationship has suffered. The many date nights where we go out and dream big dreams for each other and dream big dreams for our kids is a sure sign that we are ruined. RUINED. All of the flirting and innuendos and butt-cheek smacking and nightly locked bedroom door shows that we've totally lost the love.
I don't have any free time. If you talk to any of my childless friends, they will tell you that…they have no free time. Huh. Turns out that you fill your free time with things and people that you love whether you are childless or not, working or not, in a relationship or not. But let's just blame this one on the kids.
All of the quirky things they say! Because we are Serious Grown Ups, we have no time for that kind of nonsense. Laughing is for pansies.
They want to sit on my lap and smother me with hugs and kisses all of the time. We all know that is just part of their grand master plan to infect us with germs and to achieve world domination.
So, as you can see, my kids have totally ruined my life.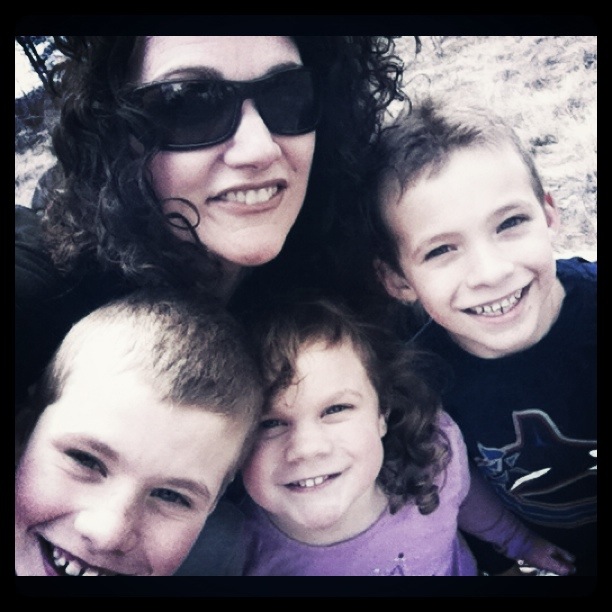 It's really, truly awful. Hugs welcome. (Just wash your hands first.)
comment via Facebook
comments