I am very lucky, so very lucky, to have married a man with a green thumb. My Dad has a green thumb, too, but did not pass that on to me. He did pass on the dark curls, the bad puns, and the gift of sarcasm, so there's that. I tried for many years to even keep ivy alive (Ivy! The non-killable plant!) and I failed every time. RIP, ivy plants of yore. As a result, we have zero house plants because they would just die a slow, painful, water-deprived death.
Matthew, in addition to being a chicken farmer, is a master gardener. He is at his happiest when he is outside, hands in the dirt, making things grow. And it shows.
We have two (large) flower gardens — we live on an acreage — and because of him, I can go out whenever I want and fill a vase with pretty things.
He also works hard in our vegetable garden, which makes me equally as happy. I love flowers, and I love fresh vegetables. Cherry tomatoes fresh from the garden are better than any candy on the planet.
He grew red onions for the first time this year and I am pretty excited about this. Red onions and garlic are my favorite flavors. (Which probably isn't the best way to show my thanks to my husband. Want a kiss, Honey?)

In past years, I have grown herbs in pots in the window sill (and not killed them!)(I'm as shocked as you are!), but they weren't great. (No shock, there.) This year we planted the herbs in the garden and, woah. SO MANY HERBS. This is half of what I harvested.

Everything is hanging in the basement to dry, and I love that I can go down there and pilfer every night as I need.
I harvested a bunch of baby carrots this past Sunday, tossed them with red onions, garlic, and rosemary.

It was beyond delicious.
Last week, I harvested some green beans. There were not enough to can (my sister-in-law cans spicy pickled beans, and I plan to do the same), so I decided to steam them and toss them with a honey-mustard vinaigrette.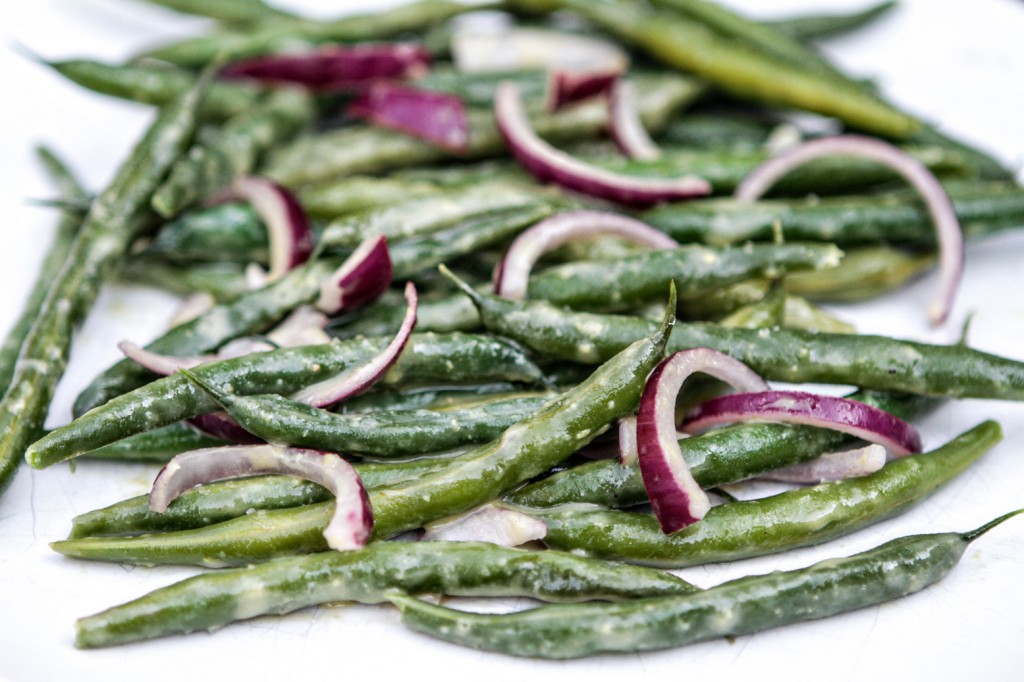 (The recipe is over at my Life Made Delicious blog.)
I'm loving that the long-term forecast is for higher-than-average temperatures, because that means that our tomatoes will keep ripening, our peppers will be ready to harvest, and the rest of our beans will be ready for pickling.
I grew up in Northern B.C., where there were no orchards or flourishing gardens, or anyone who canned anything. When I married Matthew and moved here, and had access to so many fresh fruits and vegetables from the plethora of fruit stands we have in the Okanagan, I knew I had to try to capture the tastes of summer. I taught myself how to can, and started with peaches, applesauce, and salsa. I also can plum chutney and green tomato salsa and antipasto.
I'm loving this time of year. Hot enough to swim in the lake during the day, cool enough to sleep at night. Warm enough to dry our clothes on the line, cool enough to wear clothes at night. Hot enough to ripen our vegetables in the garden, cool enough to roast/cook/can (jar?) them in the evening.
I think that I've found the sweet spot of summer and it's right here, right now.
comment via Facebook
comments