Today we traveled home.
There are two routes to get to the Coast from here. One route is a toll highway. It is new (ish), built high in the mountains, and thus a fairly straight drive. It is our main route of choice when traveling. The problem with that highway in the winter is that because it is at such a high altitude the roads are much more snowy and treacherous. You would think that with all of the toll revenue they make that their road maintenance would be stellar, but it is simply not the case. Maybe they burn the money to keep the toll booth workers warm. Who knows.
The other route tends to have safer roads. The problem with that particular route is that it winds (And winds, and winds, and winds…) all through the billion or so mountain ranges between here and the Coast. The drive goes something like this:
Zoom up to the speed limit. Slow down quickly for all of the sharp turns. Wind your way through the hairpin turns (Swaying to the left and the right…many times over). Speed back up to the limit. Hit the brakes for the turns. Sway back and forth for a while.
Remember how I said that there was a lot of sleeping going on for the drive down?
The way home had a glimmer of hope for a repeat performance.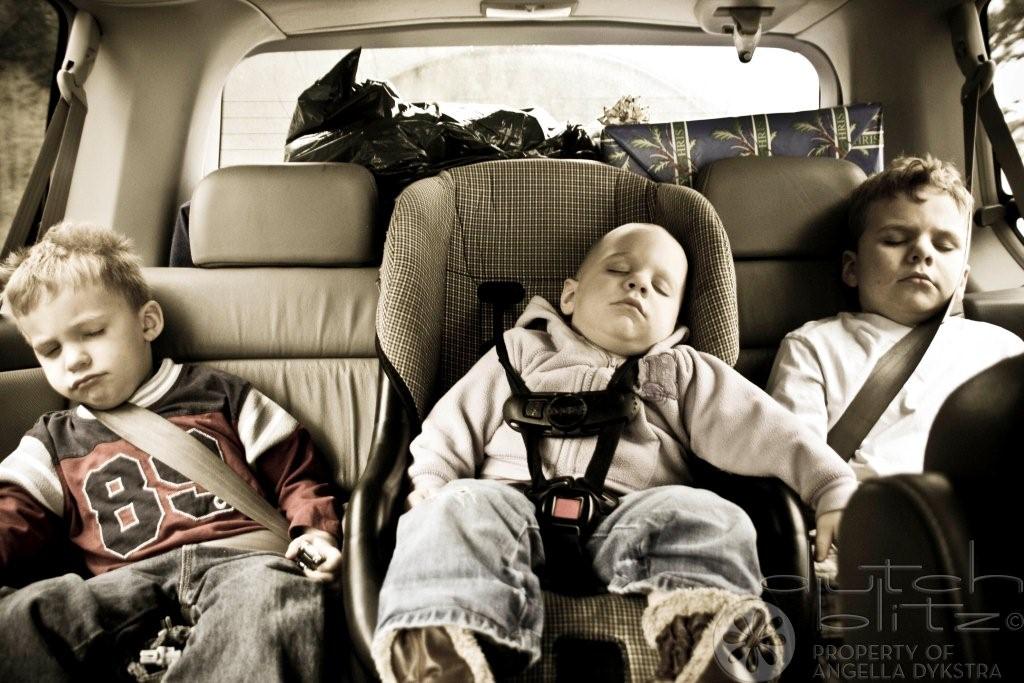 But it was not meant to be.
Miss Emily woke up this morning with a nasty cough and wheezy breath. After a mere twenty minutes of slumber in the van, so awoke due to a coughing fit and remained awake.
I sat in the second row in an attempt to keep her quiet happy. This involved a lot of turning around to pass her snacks, water, toys, and pretty much anything she pointed at.
All of that facing backwards, combined with the WINDIEST HIGHWAY ON THE PLANET made me the same shade of green as my new shirt. I was doing the pre-barf burping and was not a happy camper.
We stopped halfway home for a leg stretch and pee break. I took over driving and by the time we got home the burping had subsided. We were all pretty exhausted though. Matthew and I were up far past midnight every night visiting with the grown-ups and the kids did not get the memo about sleeping past eight in the morning.
We unloaded the van and did what anyone with a sound mind would do. I started dinner and Matthew started removing the kids' gift from their boxes. You would think you could open the box, reach inside, and voila! A toy would emerge.
That is nowhere near the case.
Toys come with multiple pieces, and most require assembly. Each and every minuscule part must be tied to the packaging with a separate tie that cannot be removed by human hands. They must be cut with the toughest scissors you can find.
Matthew managed to get the guitars (Complete with microphones! Thanks Grandma and Grandpa.) put together before dinner. After dinner I thought I would do my part and help the girl with her new doll ensemble.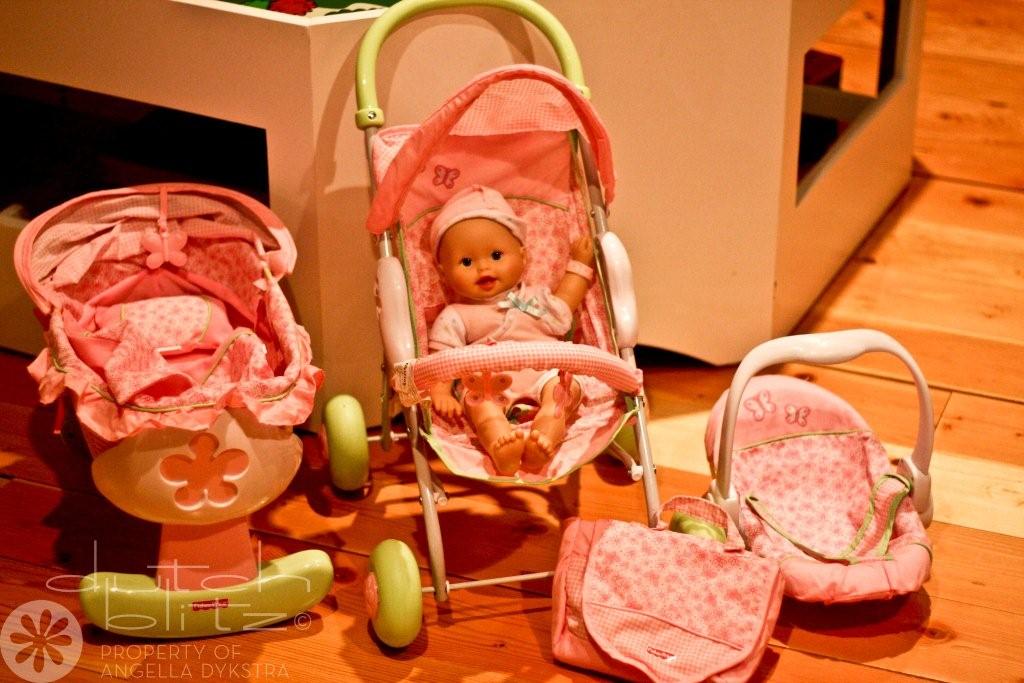 That there set had about three hundred bitty pieces and I may or may not have muttered a few (OK. Fifty.) choice words under my breath whilst assembling all of that. I wondered if my fourteen-month-old daughter would even give a rats…if she would even care.
It appears that she does.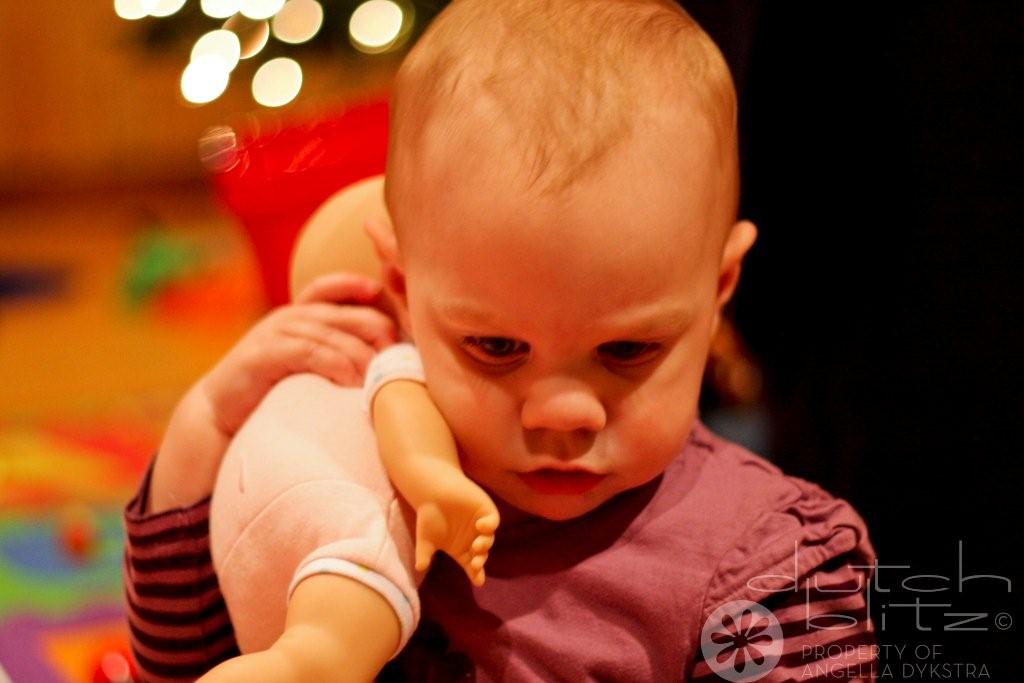 She even tucked in her "baby", kissed her, and said "Night, Night."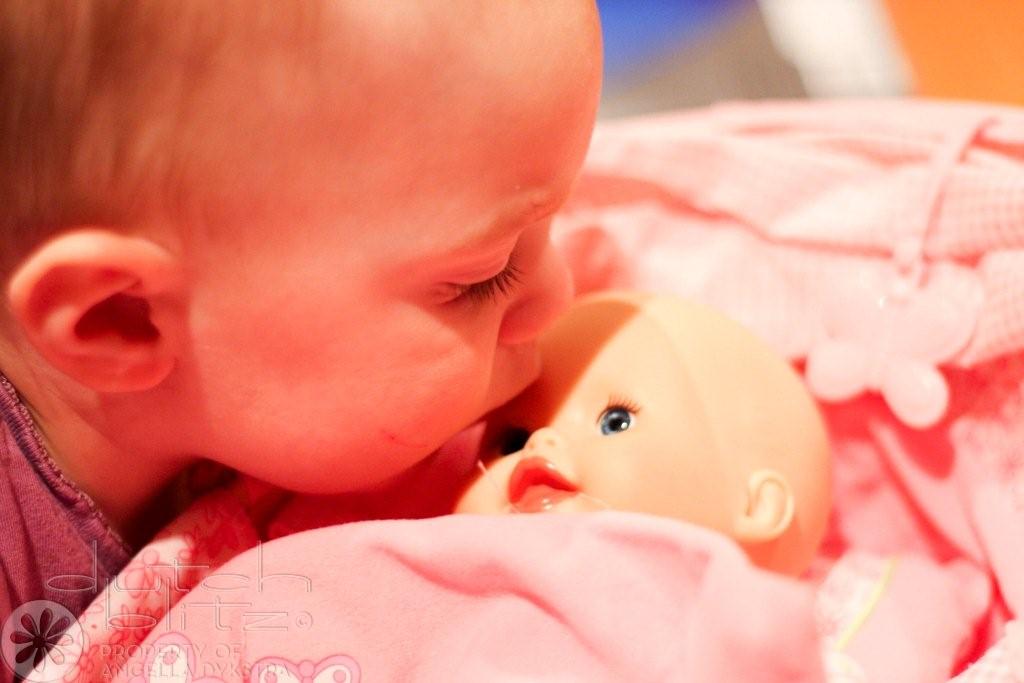 Does that not make your heart melt, just a little?  It sure cheered up my grumpy heart.
I cannot wait to go "Night Night myself", right after Honey and I soak in the hot tub.
Night night!
comment via Facebook
comments