Well, hello there.
I felt a wee bit guilty writing such a somber post and then going so long without an update but (I live a life outside the Internet, and) I was busy. Or "Busy" as stated in that last post. I'm joking, people. I threw up a quick post of my kids in their Sunday best to knock the Depressing out of the number one spot and let you know that I wasn't crumpled in a heap in the corner. Also, to show off my ridiculously adorable children. I have no qualms in saying so, as they all look remarkably like their Daddy.
In all honesty I am good. Better than good, really. It was like I needed to get it all out so that I could clear my head of the nonsense and just purge the chaos. The only crying I have done since then was due to sweet comments, emails, chats and phone calls. Anyone who hates on Internet friendships needs to be smacked upside the head. Or possibly have the Grumpies hugged out of them by a bunch of kamikaze bloggers.
This is not to say that I won't go to my doctor for a physical (HOLD ME) or take other steps to keep my equilibrium balanced. In the meantime, I am holding my own.
Part of the freak out of last week had to do with the unknown portions of my work life. I just plowed through week one of eight and it was fine. I'm back in a course I have done for the past five years; I know it like the back of my hand. Twenty-five students is busy, yes, but the stress is only time-related, not content-related. I also talked to the firm I'm returning to in January to discuss the details. Not only will I be working with people I've known for eight years (and adore), I'll be doing a job that's in my comfort (and knowledge) zone. There's a (more than) decent salary and benefits to boot. Big, deep, exhale.
I have been on the happy side of life and thought sharing what is making me happy might make you happy. Or at least happy for me. Here goes:
I hold the iTunes conch in our household. Matthew asked me to download some songs by the Jackson 5. Watching the kids shimmy and sing "ABC" is pure awesomesauce.
In the whole "shimmy" vein, watching Emily's ballet class is a highlight of my week. She does everything that the teacher tells her to, and seems to have a knack for it. She's also ridiculously cute.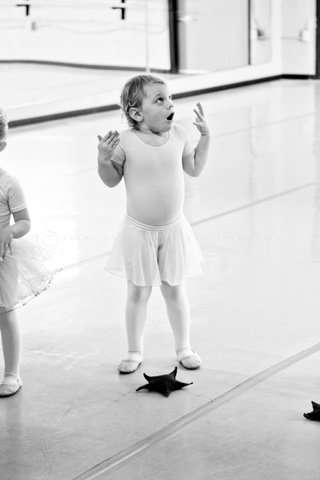 Seriously.
I have always liked gel pens (still do) but recently tried a Sharpie pen. I am in love.
After numerous months and years bragging about the fact that I have neither read Twilight nor watched the movie, said movie showed up on our free movie channel this weekend. We watched it and…liked it. Prepare yourselves, for apparently there will be pigs flying in the near future.
My friend Amy (Amalah) mentioned me in a video over at MamaPop and it brought me no end of laughter. (Amy – I'm pretty sure it was $30, not $70. As I said before, don't worry about it. You can buy me a bevvie (or two) in New York next August and we'll call it even.)
The first sip of Diet Coke each day. What can I say? It's the simple things in life that make the day better.
Footed pajamas.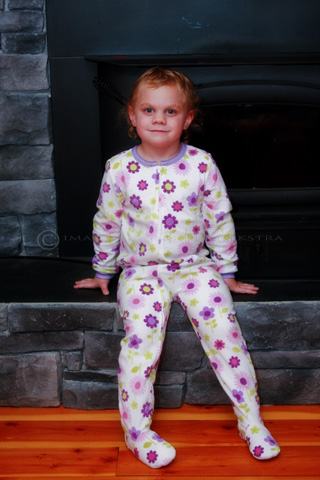 I asked Kerri Anne for a book recommendation and she told me to buy Neverwhere. I did, and have been engrossed ever since I turned the first page. By "engrossed" I mean "reading in five minute increments while I'm stirring dinner/refereeing bath time/sitting on the can." Shut up. Don't even try to tell me you don't do it as well. (I'm referring to number two and reading on the loo (That rhymes!), in case you were wondering.)
Speaking of Kerri (Cheerleader EXTRAORDINAIRE), she made me sign up for NaNoWriMo. 30 Days. 50,000 words. One novel. It may seem a little, I don't know, INSANE in light of my recent freak out. If you (I) stop to think about it, I will be "busy" until the end of time (or so). Why not make an attempt now? If I fail, I fail. At least I'm trying, right? Other things may have to give that month, this website included. I'm totally OK with that. If you've joined the NaNoWriMo craziness as well, add me as a friend. My user name is…wait for it…Angella. I'm nothing if not original.
Glee.
Graham has started saying phrases such as, "What the…?" "Seriously?" and "Sweet" in context. I laugh every time he does it.
After over a week of rain and fog the sun finally peeked out from behind the clouds. A little sunshine goes a long way. This is a good thing, because it only lasted for twenty-seven minutes. Not that I was timing it or anything.
How about you, friends? What's making you happy these days?
comment via Facebook
comments