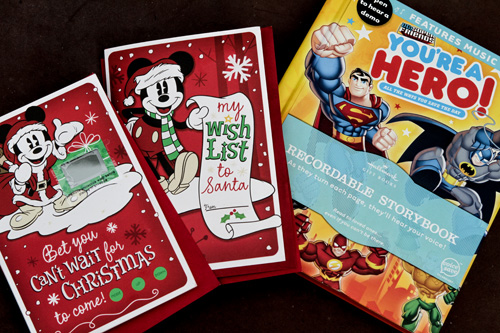 This past August when I was in NYC for BlogHer, I roomed with the lovely Loukia. If you know Lou, then you know that she is lovely and that her smile lights up the room. (I roomed with her again at Blissdom Canada, making her the very first person that I've roomed with more than once for blog conferences.)(We plan to be eternal blog conference roommates.) Lou is connected, and gets invited to ALL THE THINGS, and brought me along to visit the Hallmark suite in a rooftop penthouse in New York and it was all sorts of awesome.
Hallmark is a brand I grew up with, and it was fun to learn about all of the new products that they have, to complement the rest of their line. We got to learn about them, and they gave us some fun stuff to take home. (I gave one of their Justin Bieber cards to Amanda for her 30th birthday, because why wouldn't I?)
The lovely team at Hallmark contacted me to give me more great stuff, and to see if I wanted to give some stuff to you guys. Yes, I do. It may feel like I've been heavy on the giveaways lately (at least to me), but the people offering them are products I love and I have no reason not to spread the love to those of you who have been around for the past seven years. Or seven days. I love you all equally. Ish.
So, here's what I have to offer to one of you lucky folks. I got the same gift in the mail last week (see above photo). Here's the lowdown on what you'll win:
You're A Hero Recordable Storybook: Record a story for loved ones no matter where you are this season with the help of Hallmark Recordable Storybooks. With fun illustrations and music, you can add your voice to a story that can be replayed time and again by a special kid in your life.

Countdown Interactive Greeting Cards: Build the excitement of the season with Hallmark's newest Interactive Greetings. With a variety of card collections and sentiments, Hallmark can help share the spirit of the holidays as you tell your friends and family what they need to hear – whether it's a thank you, congratulations, or simply a hello.
Oh, and that's not all. They're offering 30 percent off personalized greetings order at Hallmark.com. For anyone who wants to use it! Create your customized greetings and photo cards, and use the code BLOG30 at checkout. The offer is valid through the first of next year, so you'll have plenty of time to tackle your holiday card list.
To win the gift pack, just check out Hallmark.com and tell me what product you'll use the 30% off coupon for. I fell in love with the trifold cards that I saw in NYC, and plan on making them for our annual Christmas mail out. Family photo and update letter all-in-one? WIN.
And you?
*Disclosure: I received product, the opinions are my own, you know the spiel.
*Open to residents of the U.S. and Canada, I'll draw the winner on November 10, 2012.
comment via Facebook
comments