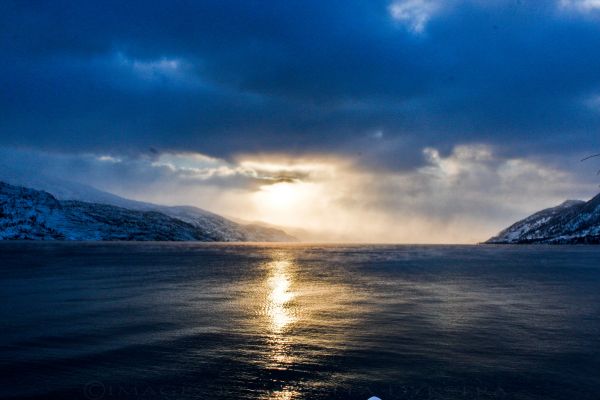 My very first memory is of me at the age of two, sliding out of bed and padding down the hall.  I rounded the corner into my living room and instead of seeing my parents, I saw my regular babysitter.  I asked her where my Mommy and Daddy were and she told me that they were at the hospital having a brother or sister for me to play with.
My next memory is of us leaving the hospital, with me "helping" carry my new baby sister to the car.
I have other fuzzy memories. Of cutting the flowers out of the seventies-printed toilet paper and giving them to my parents' friends, of swinging on an aluminum swing set, of sitting on the tail gate of the truck and camper with my platinum-blond, corkscrew-curly-haired baby sister.
The next major event that I remember is at the age of three.  I sat on the front stoop of our house with that wee sister of mine.  We watched our Dad get into the car, close the door, and drive away. He was starting a new life; one three hours away that did not include us.
We saw him the occasional weekend and on major holidays.  As we got older we would spend a chunk of our school holidays with him and his new wife.  They had made changes to their lifestyle and had started attending a church.  They told us they were Christians now.
I have always believed in God, so attending church with them felt right.  The summer I was thirteen, my Stepmom explained who Jesus was, and is, and I knew that I needed to know Him personally.  This was a catalyst for healing, for forgiveness, for a new relationship with this man I called Dad.
A few years later something happened that sucked the air from my soul.  All that I thought my Dad was, he was not.  He had betrayed my trust, and those of others.  All of the healing that had occurred had somehow been stripped away in the matter of a few moments.  I felt like all I knew and believed about him had been a lie.
Trying to reconcile the vision of a Heavenly Father with my earthly one was an emotional, spiritual, and sometimes physical struggle.  I backed away from my faith for awhile.  I still believed in God, and in Jesus, but I struggled with the idea of God as my Father when my relationship with the earthly one was so strained.
I finally stopped running and asked God to help me.  To heal me.  To make me new again.
It happened.
I met Matthew, we married, moved here, had babies.  I know love like I had never thought possible.
There was still that nagging issue with my Dad.  I wanted so much for him to see how he had hurt me, and others.  To recognize the hurt, the disappointment, the damage.  To be sorry.  I tried to communicate this, to no avail.  My last communication to him was a letter soaked with tears that was neither acknowledged nor responded to.
I gave up.
Three summers ago I made plans to go to Vancouver and get Lasik eye surgery. I needed somewhere to stay and was contemplating my options as I drove into the next city to run errands.  I can tell you the exact spot on the highway that I heard God speak to me.
Call your Dad.
I did. How could I not?
I realized that it is not my place to make people see the hurt that they have caused.  My responsibility is to forgive. To love. That is all I can do.  Forgiveness does not mean that the trust can necessarily be restored, but it does mean that we can start afresh. I myself have made many mistakes in my own life and can only hope that people can forgive me even if I do not know of the hurt I have caused.
My heart has been healed in places that I thought was not possible. The wounds have been cleaned, the ointment applied, the gaping hole sewn shut.  All that remain are the scars.
The scars have faded, but they are still there.  Imperfections in what was once an unblemished landscape of my soul. I like to massage the scars every once in awhile. They serve as a great reminder of how far I have come. And of how unbelievably good I have it now.
(Dad, I love you regardless of any flaws and hurts incurred.  I only pray you can say the same to me.)
*Jann Arden.  The lyrics are what inspired this post.
comment via Facebook
comments