On Tuesday morning I did the normal routine of dropping Graham off at school, grabbing some groceries and then taking the other two kidlets to a community event called Tumble Time. Our church opens up its gym full of toys, climbing apparatus and plastic ride-on cars which gives the kids a chance to burn off some steam despite the inclement weather outside (And also afford us Moms a chance to connect).
As I was unloading those two kidlets from the van (after listening to the SAME OLD, SAME OLD on my ipod), I pondered doing a post asking for some new music suggestions.  It has been nearly a year and a half since I asked for recommendations, so I thought maybe I could ask again without seeming too repetitive.
After Tumble Time (Which involved loading two kids back into the van and then driving through MOUNDS AND MOUNDS OF NOW) I arrived home and checked my email.
The lovely folks over at iTunes Canada had emailed me and asked if I would be interested in giving away a $25 gift card to my readers.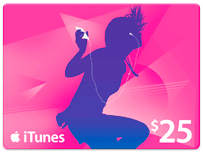 HECK YES.  My readers are awesome.
They asked me to make sure y'all know that the gift cards are available at Sobeys, Mac's and A&P (in the Toronto area) and Safeway, Save-on Foods and Coop (Vancouver area).
I have personally purchased the gift cards at both Save-on and Safeway, so I knew they were telling the truth. And that "Vancouver area" actually meant "BC". I live in the sticks. YO.
These gift cards will only work for my Canadian peeps but I really am OK with that.  It seems as though every contest on the Internet is for "US residents only".  To quote Mr. Lady, "Canadians are people too".
YES. YES, WE ARE.
Don't you dare try to tell me otherwise. I have been working out, you know.
My American friends are welcome to enter, but I am pretty sure that the card won't work south of the 49th parallel. Should you win I could always mail it to one of your Canadian homies. Nobody is going to be grumpy about that kind of regift.
All you need to do to be entered is to tell me what tunes you would download with twenty-five dollars. Or what music I need to download.  I am in dire need of new music. You really have no idea.
I will keep comments open until sometime on Friday (I'm vague like that) then use random.org to pick a winner. Hook me up and I'll return the favour to one lucky winner.
**Edited to add**
Matthew and I sat down and went to Random.org
Here is what happened: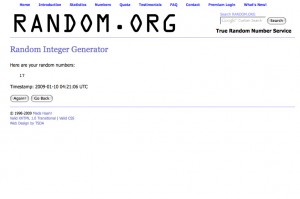 Hillary! The gift card is yours! Huzzah!
comment via Facebook
comments