When I am out and about with all three of my kids I usually get unsolicited observations.
Wow. You have your hands full.
You must be busy!
Nothing like stating the obvious to grate on my nerves. A glimpse into my life, from our trip to Seattle:
Life with three kids is busy. Life with any number of kids is busy. I do not claim to have the Queen of Busy as my title. I just try to get through the chaos without imploding. Or exploding.
My weeks are filled with driving Graham to and from school five days a week, driving Nathan to and from preschool two times a week, groceries, appointments, errands, Mom's group…
I also have work to do. So does Matthew.
We know full well what a superb setup that we have over here. When he has work to do, I put on my cape and pretend to be Supermom (Pretend being the operative word).
If I have work to do, he is Daddy Daycare.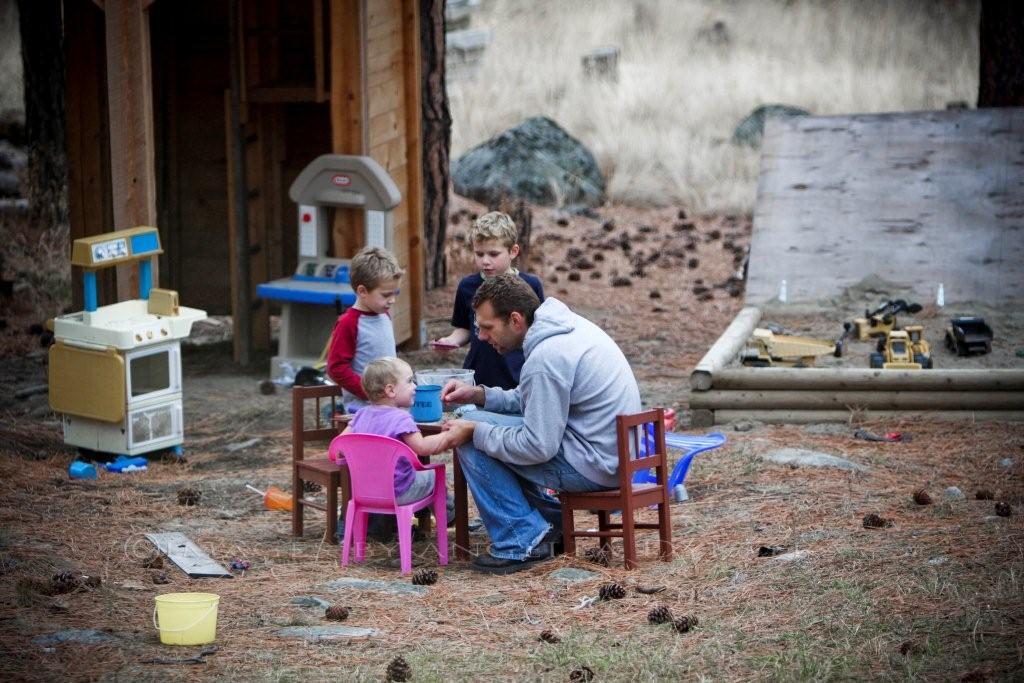 Emily likes to make "pancakes" out of sand and serve them up. With "butter" and "syrup", of course.
Those of us who are at home each day sit down to eat lunch and dinner together. Apart from meal times, one of us is working and the other one is parenting (Which is also working. Just not for pay.)
Saturdays are still a busy day for me with my accounting gig, but at least Matthew doesn't have to field phone calls. He will often putter in the yard while the kids play around him. Sometimes he will either load them on the ATV (For a short trip to the creek), or into the 4Runner (For a longer trip exploring other areas out here in the sticks).
I work as fast as I possibly can in order that we can at least have some time in the late afternoon/early evening to hang out as a complete family unit. Now that it is getting colder/darker, this usually involves colouring at the table/watching a movie together/ having tickle-fests on our bed.
Sunday afternoons is when the word "Busy" is a curse word. Everyone knows that cursing on Sundays is frowned upon.
After Emily's nap we try to do something outside. TOGETHER. My kids love to be outside, as do Matthew and I. (OK. I only like it when it's not FREEZING, but still.)
This past Sunday Matthew and the kids took me to a place they had found on a previous Saturday while I was working. A mere ten minutes away from here are a bunch of concrete foundations in the middle of a tree-lined field.  The history books tell us that there used to be a settlement (Many moons ago), that included a post office, a school, and some other buildings.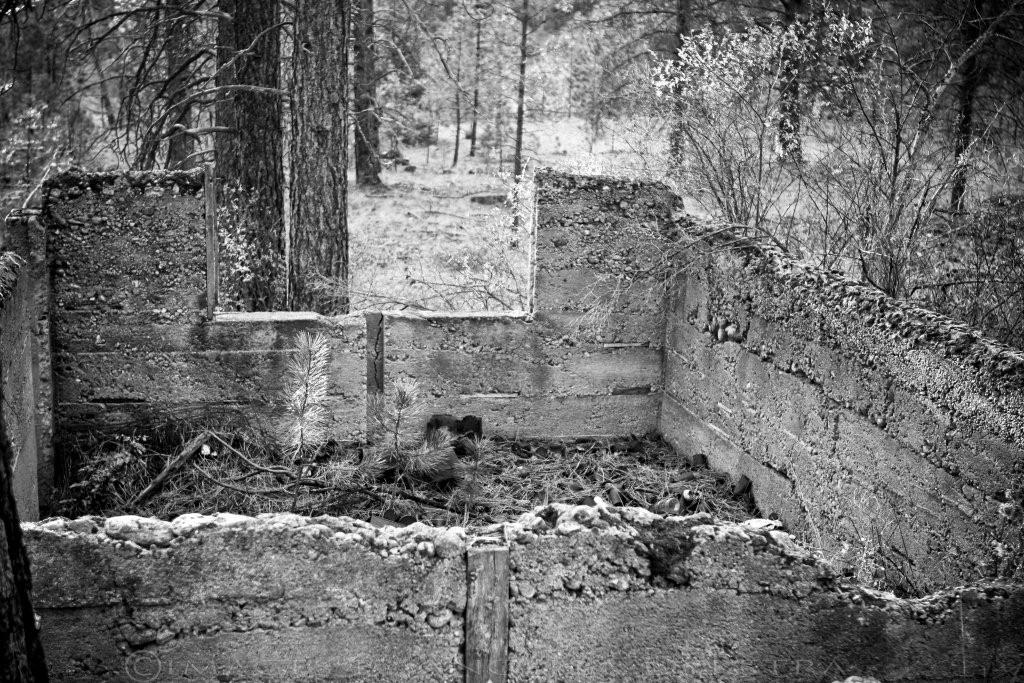 Someone lived here. Neat.
We wandered down an old dirt road.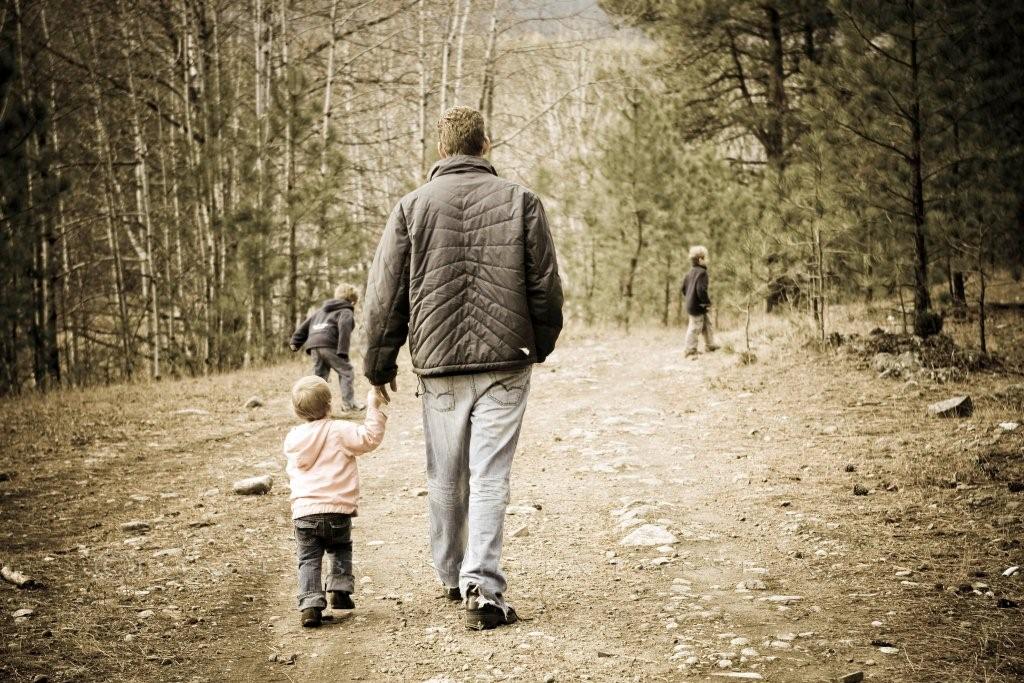 Sigh.
The road went over the "Once in Awhile" creek.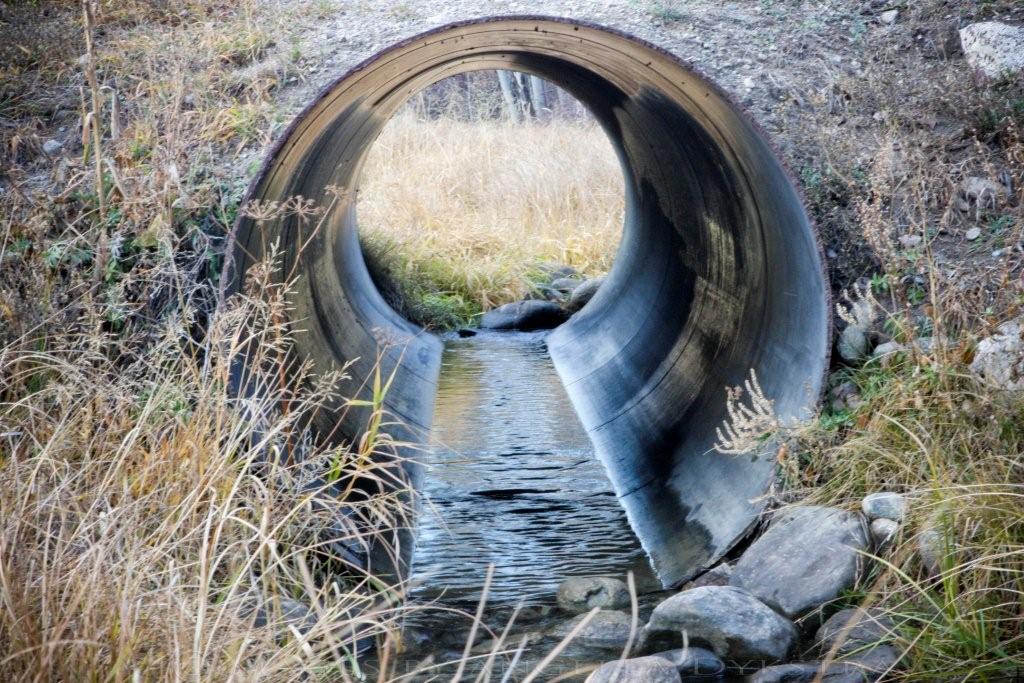 It is called this because it only runs…wait for it…once in awhile.
There was this big pile of stones.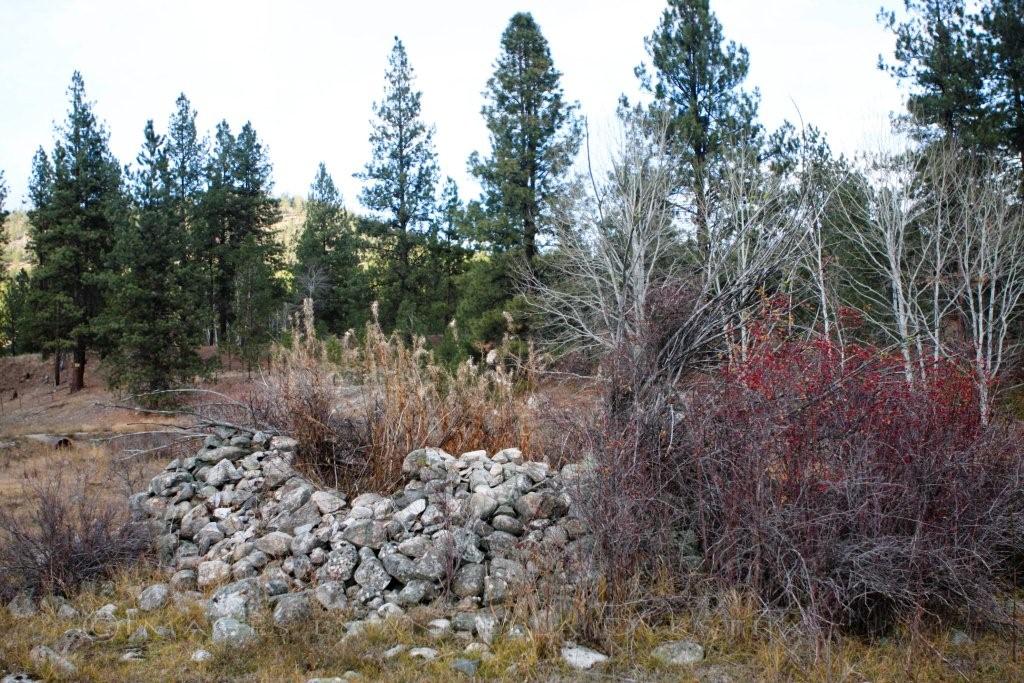 I really hope it wasn't a grave site.
We found a ginormous ant hill.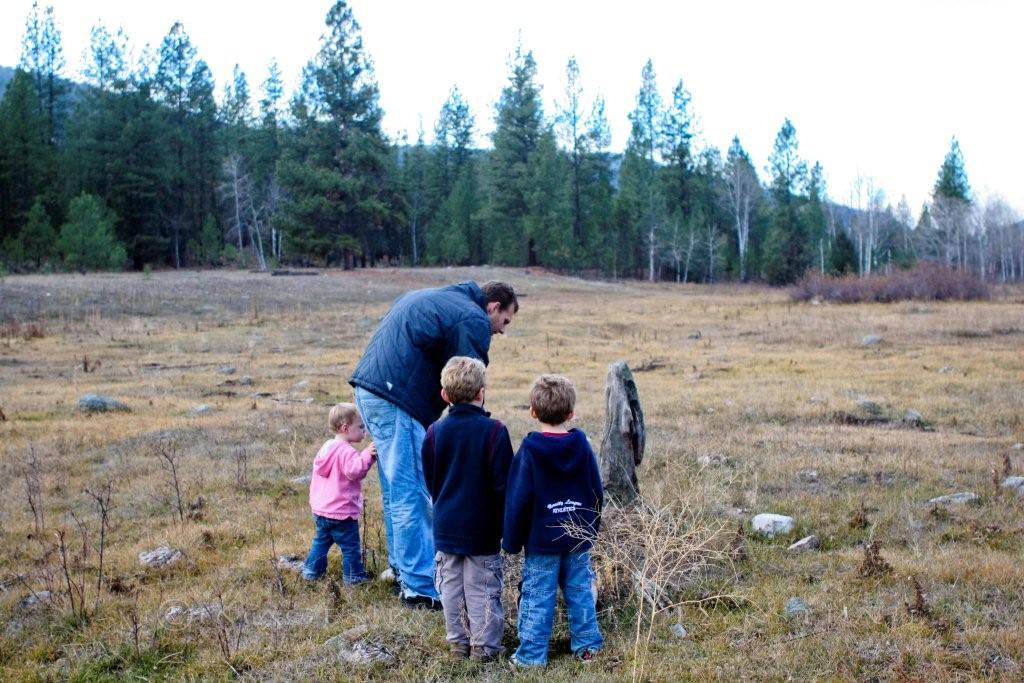 I kept my distance.
We wandered through the trees for awhile.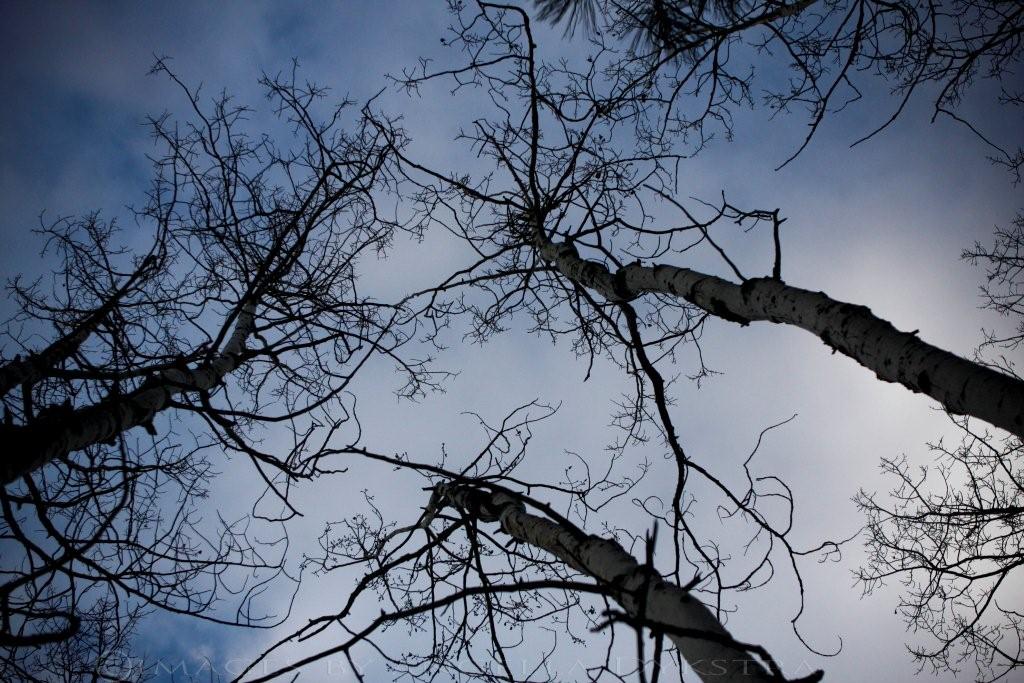 Matthew thought that this one looked like half of a heart.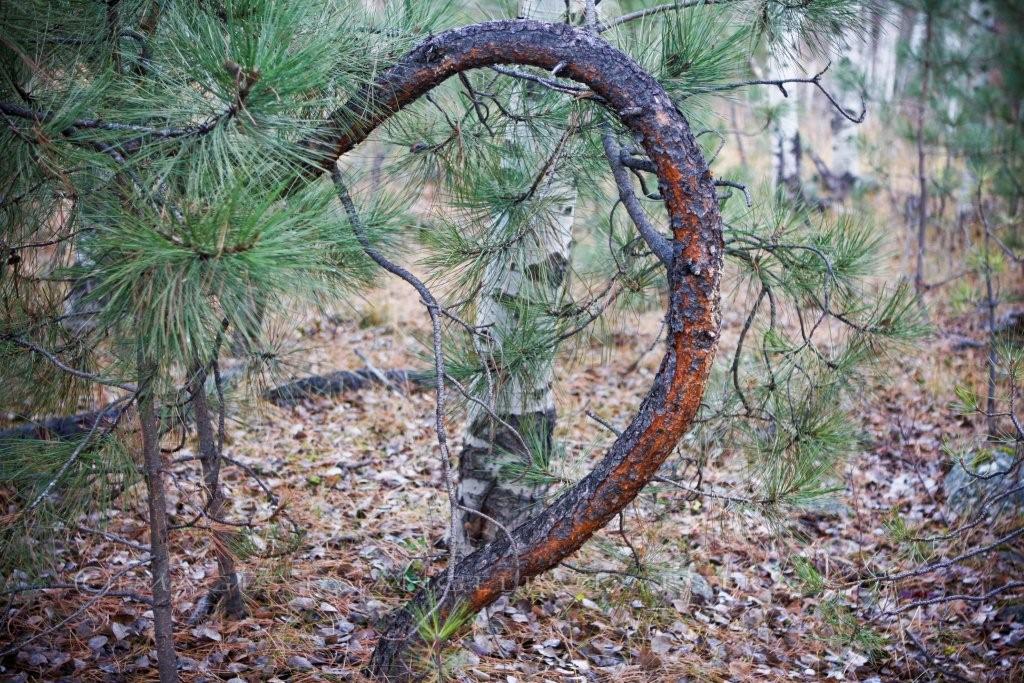 I went looking for some colour to photograph, and found some specimens of nature clinging to life.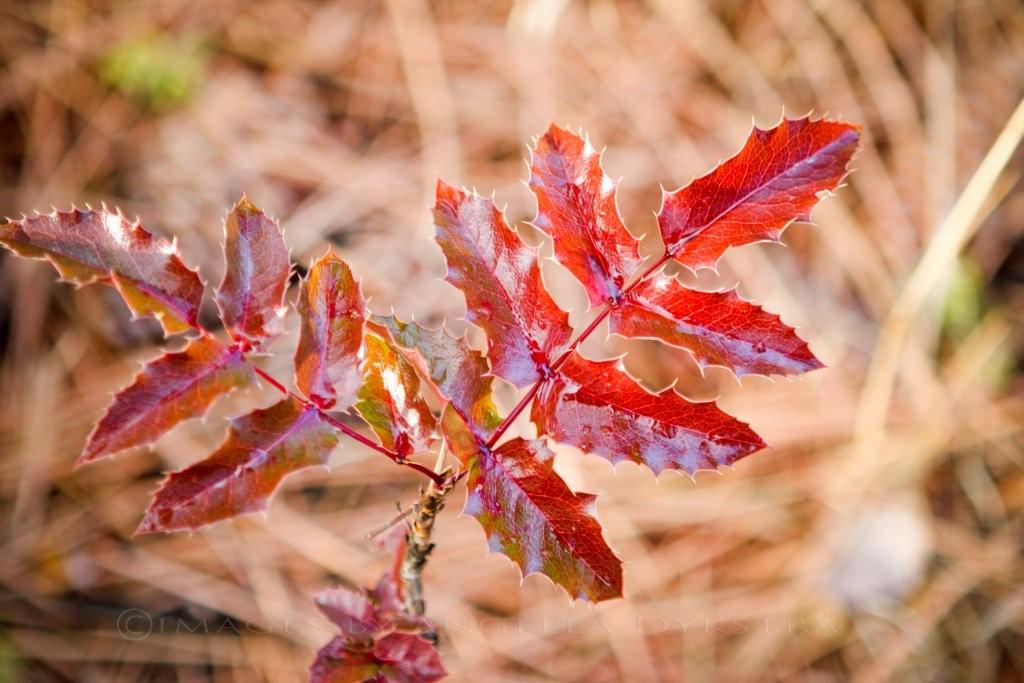 As you know, I like red.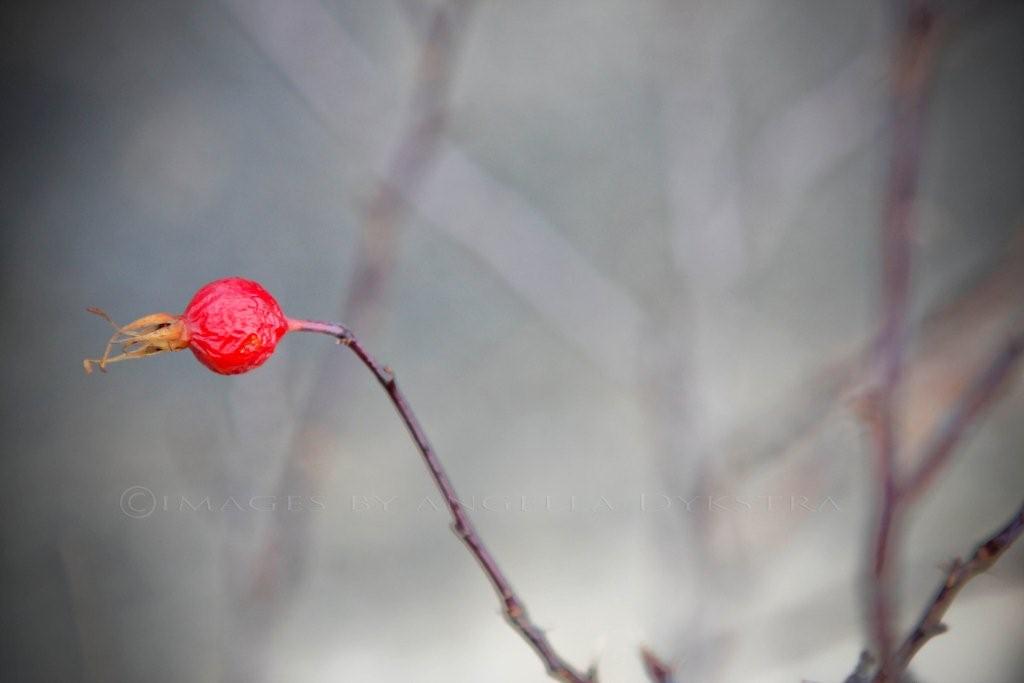 Poor solitary berry.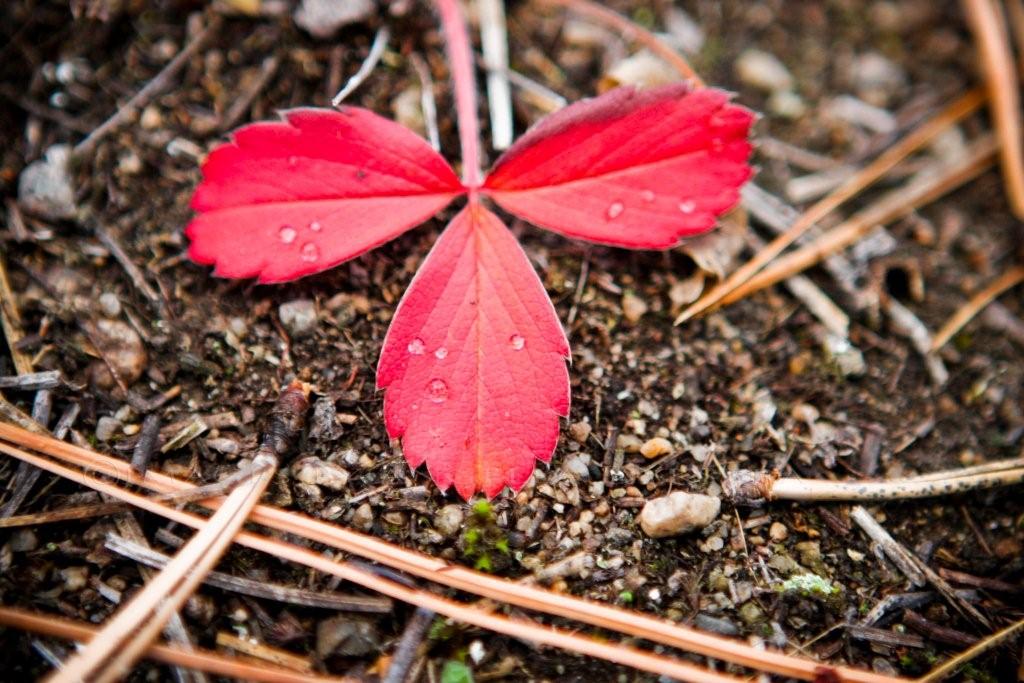 Water droplets are fun.
I thought I'd look for a new colour.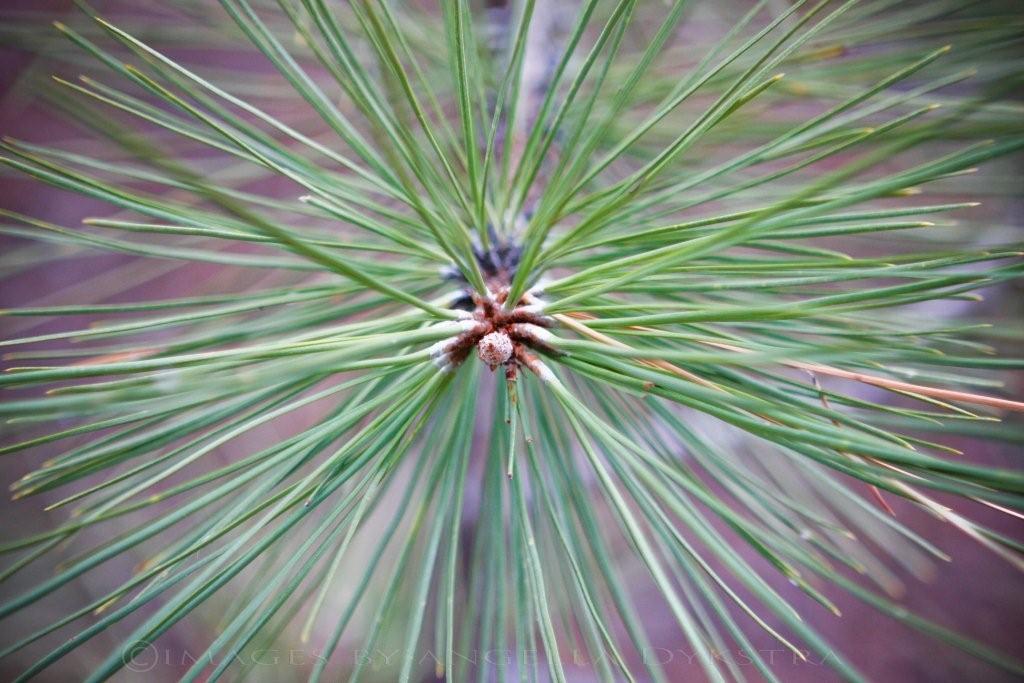 Red and green! Christmas colours!  Only forty-nine days…
While I looked for colour, the kids played with sticks.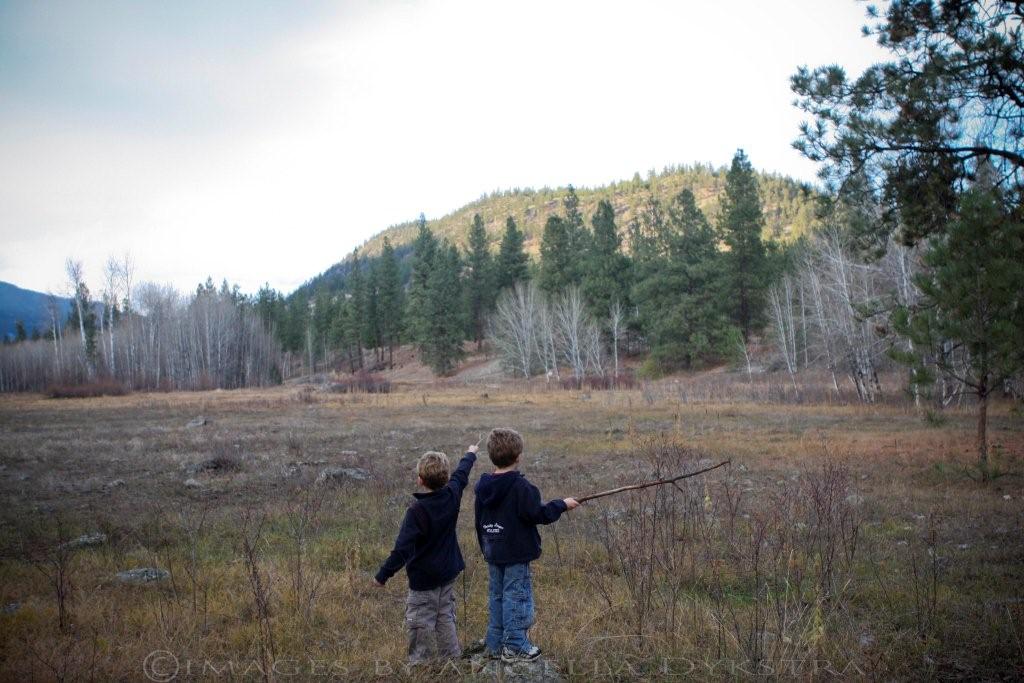 That was his "avoid the camera" technique.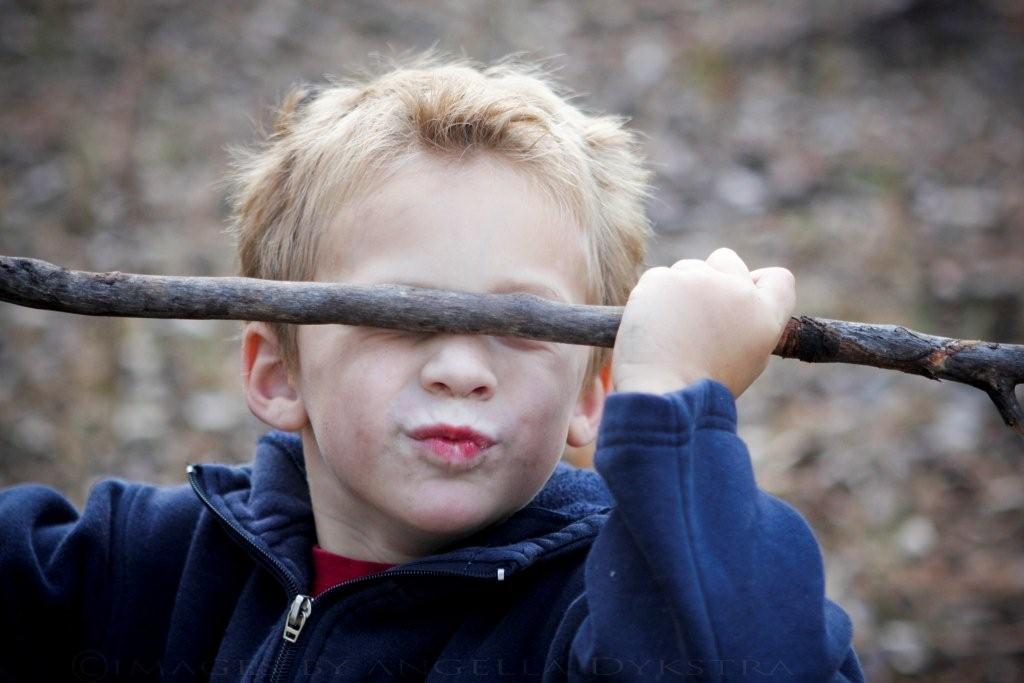 Stinker.
Emily was a little excited abut her stick.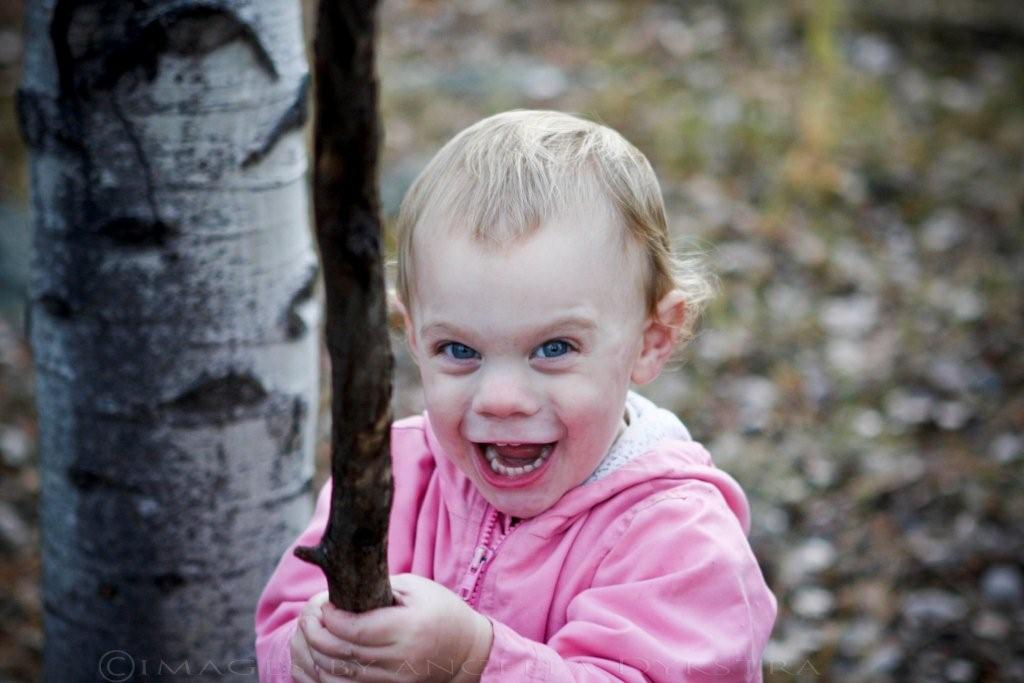 I've been sleeping with one eye open ever since I took that shot.
I need these breaks from the hamster-wheel of life that is Monday through Saturday. Sundays are a day for me to unplug, unwind, and recharge. Our family needs the down time in order to prepare for the week ahead, and we all need that time for the five of us to connect and enjoy each others' company.
Because we do. Enjoy each others' company, that is. This is a good thing as we will be together for the rest of our lives.
When we are in the trenches of our chaotic life during the week, Sunday puts it all into perspective. I may be up to my limit in what I can handle but I know I can push through because Sunday is coming.
What do you like to do to give yourself (and or your family) a "time out"?
*OK. This is getting weird. I wrote this post and then dug through my archives to find the post from a year ago today: Life In The Sticks: Episode Three. You would think that I was doing this on purpose, but I am not. Weird.
comment via Facebook
comments