If you know me at all, then you know that I love to cook, and to bake, and to host get-togethers. Oh, do I love to host get-togethers, be it a wine and cheese party, or a full-spread holiday meal. I make my lists, check them twice, and get to work many days in advance. I may get a little crazy the day of the event I'm hosting, because I like to have everything just so, but it all works out in the end. I have everything so well-prepared that once guests start to arrive, I'm pretty much off duty. I have time to chat with my family and friends and be part of the party, instead of just hosting it.
We already had Thanksgiving up here in Canada, and I hosted the dinner as I always do. We have extended family coming to town at the end of the month, which means another family dinner (Yay!). Next month is Christmas, which means that I get to host yet another dinner (Double yay!). And then. And then! My birthday is in January and I love hosting a girls' night in where we eat appetizers and drink wine and laugh (and laugh and laugh).
With the holiday season approaching I thought I would share some of my stand-by recipes, and see if you guys have any recipes that you'd like to share. As part of my commitment to being a food blogger for Life Made Delicious, they're paying me to write here on my own site a few times a year, about anything food-related. Which I would do anyway. Win!
So let's talk turkey dinner. Or ham dinner, if you prefer. I personally don't like ham, but I think we all know how to handle the main course, so make what you love and let's get to the best part. The sides/appetizers!
Here are a few appetizers that are in pretty constant rotation at casa Dykstra:
Here are a few sides we love, in addition to the mashed potatoes and corn:
The casserole post hasn't gone live yet (I send it in, and then it magically appears on the site at some point), so I'll share it here for you guys.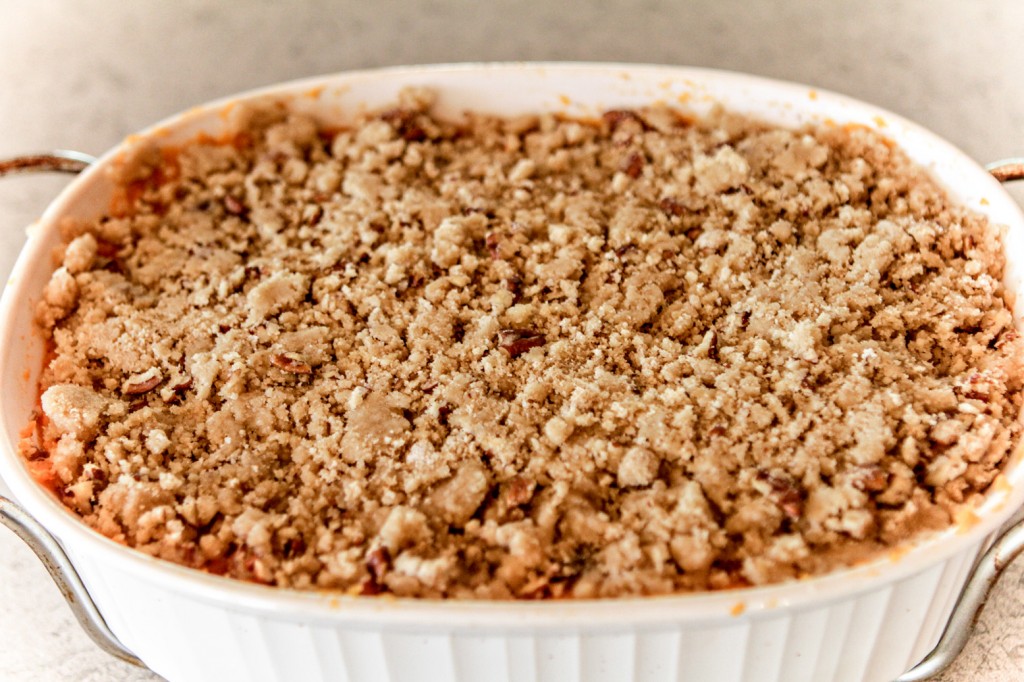 (This is before it was baked, because it came out of the oven in the midst of the dinner flurry, and I had no time to take an 'after' photo.)
Casserole Ingredients:
3-4 cups sweet potatoes (about 6 medium-sized potatoes)
1/2 cup milk
2 eggs
1 tsp vanilla
1/2 cup sugar
1/2 tsp salt
3 Tbsp melted butter or margarine
1/2 tsp nutmeg
Topping ingredients:
1/2 cup butter or margarine
1 cup brown sugar
1/2 cup flour
3/4 cup chopped pecans
Directions:
Peel, chop, and boil sweet potatoes until soft enough to mash. Mash them, along with the rest of the casserole ingredients.
Scoop into casserole dish and level the top.
Mix together the topping ingredients and spread evenly over top.
Bake at 350 degrees for 45 minutes.
***
As I have a few dinners coming up, and love to try new recipes, do you guys have any that you'd like to share? Dessert recipes welcome, too, because you can't have dinner without dessert.
It's this love of cooking/baking (and hosting) that scored me a position of one of the food bloggers for General Mills Canada's recipe site Life Made Delicious. In addition to paying me for posting on their site, and sending me quarterly boxes of goodness, and for paying my entire way to BlissDom Canada, they're paying me to write about food, here. All opinions are my own, of course.
comment via Facebook
comments