As with the rest of Canada (for the most part), my kids are back to school today. It comes with mixed feelings on my part, for a number of reasons. I'm looking forward to getting back into a routine, because balancing self-employment and keeping my three entertained and happy has been a little bit exhausting. I'm going to miss the fun parts of summer. The almost-daily trips to the beach, running through the sprinklers, family vacation at Cannon Beach, spending so much time outside. I'm sad to see summer quietly retreating, but I'm excited for ski season to arrive because we all love skiing so much and can't wait to take more lessons and to keep improving. For the first time in many years, the ball of dread in my stomach as summer gives way to fall is no longer there. Well, there's a bit of a dull ache, but it's nothing that running and exercise and vitamins can't keep at bay.
The majority of my mixed feelings have nothing to do with the change of weather seasons, but with the change of seasons happening within our family. I feel that same feeling as I do when I step outside in April and the sun is warm on my skin, and I know that spring will come again. Or how I feel that day in late August when I step out onto the deck and notice that the sun is lower on the horizon. It is still hot, and it is still summer, but the light is different. Change is coming.
Us parents always talk about freezing time — making it slow down, even — because it is all going too fast. Our baby who was once a blob is now walking and talking, our toddler who found the utensil drawer so fascinating is now sporting a backpack and spending hours a day at preschool, our preschooler whose version of 'reading' was flipping through picture books is now attending school and actually reading words. If we take a few moments to ponder it all we exclaim too fast and slow down and WHERE DID MY BABY GO?
I've done the same, but I feel that this time it's serious. My kids are all at the 'magical' age group I had once been told about — ages five to ten — and it really is something pretty special. I'd like to stay here for five years, maybe ten. Everybody wipes their own bums, and nobody's dealing with hormones (except for me). We enjoy each other and we have a good rhythm. We talk, we laugh, we wrestle, we enjoy each other. This year is going to be another great one, I know it, but it's a turning point of sorts.
It's the last time all three kids will be in the same school. It's Graham's last year in elementary school; he's in fifth grade! Next year he moves onto middle school.
It's the first year that Nathan gets to be a 'big buddy.' Their elementary school is K-5, and the third to fifth grade kids get to be 'big buddies' to kids three grades below them.
It's the first year that Emily gets to go to Sparks (an evening girls' club at our church). Kindergarten was HUGE in making her seem to be no longer a baby, but having 'big girl' activities make her seem even older.
It's Graham's last year in Spudz (an evening boys' club at our church). When he graduates to middle school, he also graduates to youth group. YOUTH GROUP. I can't even.
It's the first year of piano lessons for all three kids. We got a used piano for next to nothing last year, and have signed the kids up for weekly lessons. I'm hoping I can learn a thing or two myself as I help them practice.
Matthew and I have had a lot of firsts and lasts, too, and more to come, and I love that we're growing together as we're going through them all. He's a big reason why our kids are as special as they are and I love seeing their Dad reflecting back at me.
I know that there will be even more firsts and lasts as the years go on but I don't want to think about them right now. I just want to soak up this year of the five of us before we start dealing with hormones and crushes, broken hearts and broken dreams and situations more disappointing than Mom forgetting to pack a cheese string in your lunch.
Here's to a new year, a good year, the best year yet.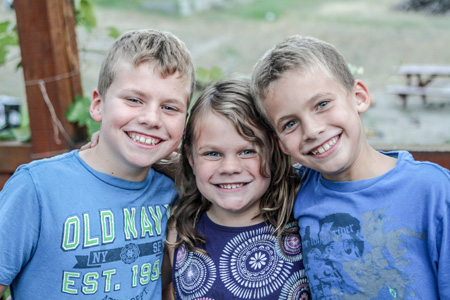 comment via Facebook
comments