Tonight was the Christmas pageant at our church. The boys are both in Sunday School classes and the plan was to dress them up as little lambs and have them sing "Away in a Manger", and then another song to which they would ring some jingle bells.
We brought the lamb costumes home after church today. Well, Nathan had a white t-shirt, but he did get a hat with lamb ears. Graham's costume came equipped with a tail and the same cute hat. Here's the picture I coerced them into letting me take before we left: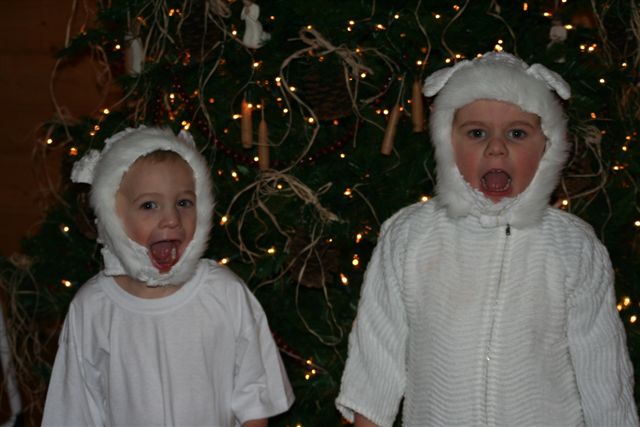 How do I coerce them? I threaten them that if they don't let me take their picture, then we're NOT going to church. I have a feeling that threat won't have the same effect in a few years, so I'll use it while I can.
They were excited to be lambs, and couldn't wait to get to the church so they could perform. We were looking forward to an entertaining night (Comedy! Singing! Baking!), and thought it might be an entertaining night. Entertaining it was…
We got there a little early to get seats near the front. Normally we're back o' the church sitters, but it's easier to be at the front when the kids have to go on the stage. Matthew took the boys back out to the foyer to burn off some steam so that they would sit quietly in the pew once the pageant started. It was a good theory.
Nathan found the nursery with all of the toys and would. not. leave. Graham came back into the sanctuary and sat with me. Then he left again, which was fine as it hadn't started yet. Emily was making her rounds on the pew behind me (she's cute, and a hit) so I went to fetch G. We already knew that Nathan wouldn't be singing at the front. On my way out I saw Grandma & Grandpa D and directed them to our seats.
I get to the nursery and Matthew tells me that Graham has to poo. So he takes G to do his biz-nas and I hang out with Nathan. He still didn't want to leave the toys, so I pull out the Grandma card. We go back in to our seats for about 1.5 minutes. He hugs Grandma and then wants to leave again. We head back to see what the holdup is with Matthew and Graham. They finally emerge from the men's bathroom.
Apparently Graham's coiler was more of a splatter. When he stood up for the bum wipe, he smeared poop on the seat and it dripped down the side of the bowl. And on the floor. So after cleaning G up, Matthew cleaned the bathroom. Awesome.
Matthew stayed in the nursery with Nathan the toy master, and Graham and I went back to our seats. Why was I the lucky one? Because I know how to use the camera and the video camera.
I take Emily back from the family behind us, and then pass her to Grandma so that I can video tape the singing. And take photos. At the same time. Remember – Matthew's dealing with our 2 year old. Here's a shot of Graham at the front with his class: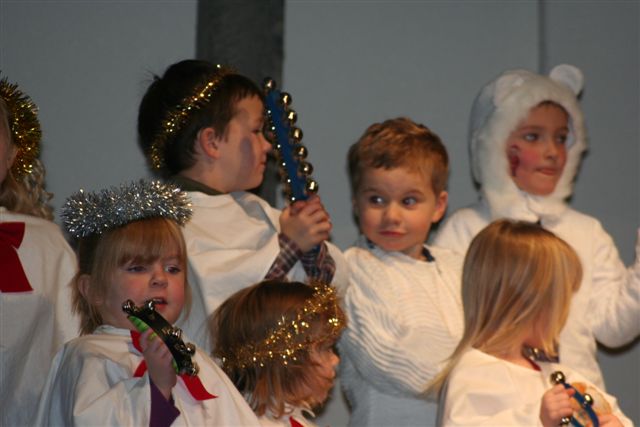 Excuse the blur. I was filming with the video camera with one hand, and trying to zoom/focus/take the darn picture with the other hand. Note that he's not wearing his ears. He told both me and Mrs. B that "I don't need it." Fine. He also didn't sing one syllable of Away In A Manger. I asked him afterwards why he didn't sing, and he said, "Because I can't sing." Whatever, dude. Neither can I, but that doesn't stop me.
I relieved Matthew of Nathan duty, and he went in to catch a few of the other acts. Nathan ran in and out a few times being as loud as he possibly could. After about 20 minutes of this chaos we called it quits and came home.
Notice there's not much mention of Miss Emily. That's because she didn't make a peep. She fell asleep on Grandma's lap for a little bit, and then woke up and just smiled at everyone. She's our angel baby. I'm sure it will all change when she's two, but I'm loving it right now.
I don't even think I have given justice to the gong show that was our evening, but you got a glimpse. It was fun. Kind of. But crazy too. This is what I get for complaining about being "bored" and "house bound" with "cabin fever."
comment via Facebook
comments