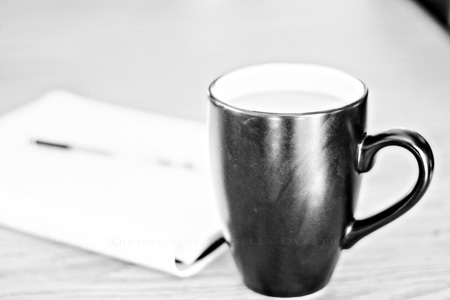 We all know about the "fight or flight" instinct. When faced with something formidable most creatures, whether human or animal, feel an adrenaline rush and have all but a split second to decide whether they are going to stand their ground and fight the good fight or whether that are going to turn tail and run in the other direction.
Neither choice is more noble than the other. Sometimes, straightening your shoulders and taking on your enemy is the best course of action. Other times, the wisest thing you can do is walk away and prevent further trauma for yourself and the people you love. There are times that you need to put up your dukes and other times where you need to breathe a deep sigh, turn on your heel and walk until you cannot walk anymore.
This past weekend found me in that in-between state. All that I have on the go and all that is coming down the pipe caught up to me and I felt that all-too-familiar tightening in my chest. I spent the bulk of Saturday at the office followed by a big grocery shop. I arrived home and immediately started prepping dinner for that night and the next. Matthew had to bring a bunch of yard waste to the dump and upon his return he walked into the kitchen, wrapped his arms tightly around me and said something that struck me as both odd and wonderful at the same time.
"I like you."
It is no secret that I strive on words of affirmation and that switch-up from the usual, "I love you" made me smile from the inside out.
We talked about the stresses we are both facing. Me with the bazillion work hours and him trying to balance his part-time work while the kids are on spring break. (One week down, one more week to go. He deserves a HUGE treat (if, and) when he survives it.) We then sat down together and booked our first! ever! family vacation that does not involve staying with relatives or doing a whirlwind tour de États-Unis. We're going to spend three nights in Vancouver (BC) at the kids' request and take in big tourist attractions: The Zoo, Science World, the Aquarium. Can you believe that I lived in Vancouver for six years and never went to the Aquarium? Me neither. It's time to remedy that.
Right about the time that Matthew's tolerance for The Big City wears out, we'll be heading to Cannon Beach. While we managed to squeeze an afternoon down there during our annual fall shopping trip, we liked it so much that we think it's the perfect place for us to get away to and relax. We've booked four nights in a cute little cottage that's only two blocks from the beach. There will be walks on the ocean, trips to the ice cream parlor, evenings spent sitting on the deck and just being. We plan on spending a day in Portland to (hit up our beloved Powell's Books, and) see Kerri and any of the other Portlanders who want to (Finally!) meet ma familia.
Cementing those plans made them feel real finally and gave me something to look forward to as I hunker down for these next seven weeks. If that glimmer of hope wasn't enough to boost my spirits, Matthew insisted that I stay home from church on Sunday morning. Sunday afternoon/evening is time spent playing in the yard with the kids, taking photos and just hanging out. After the kids are in bed I try to read or write or something that quiets my spirit. It's basically a time to recharge before diving in to Monday morning. I guard Sundays fiercely because it keeps me (mostly) balanced.
We had family in town and the only day that worked for the big family dinner was Sunday. I love our extended family and knew we'd have another great visit filled with lots of laughter but Matthew knows how much I need my down time. He insisted that I sleep in and take the morning to do whatever I wanted. I woke up as they were driving away and put those three hours of alone time to good use. I cleaned the bathrooms (He usually does them, so it only seemed fair) and then I set to work having "me time". I read for a bit, I journaled for a bit, I mapped out my week so that I could feel ready for the days to come.
The rest of the day consisted of the playing in the yard, the taking of the photos, the hanging out with extended family. Now I sit here with a little sense of foreboding because Monday is coming but I think that all of the good from Sunday should carry me through it. If not, there's always chocolate.
I know that I will get through the next seven weeks. I always do. I'm a fighter. I'll dig in my heels, stand my ground and get 'er done. I just may have a few meltdowns in the process. Brace yourselves.
Another thing that has brightened my week is this video by OK Go. I'm sure you've seen it, but if not, you must.
This too shall pass, INDEED.
comment via Facebook
comments