When Matthew's brother, his wife, and kids moved back here a few years ago, we were excited on so many levels. Matthew and his brother Brandon are tight, our kids love their cousins, and I like Brandon's wife Jennifer. Heck, I love Jennifer. She is the person with whom I ran my first 10K race, with whom I now run with every Tuesday and Thursday mornings after we drop our kids off at school (6.5K on Tuesday!), and with whom I love to go on 'girls' nights' with to talk about anything and everything.
One topic that has come up many times when we've been together — just me and Jen, or with our husbands — is her work at the food bank here in town. The first time we talked about it, I remember feeling like a veil was lifted. I had no idea that so many kids in our small community were hungry. They go to school without breakfast (Thanks be for the Breakfast Club (free, donated food)(not the movie) who feed them) and they survive on snacks and lunches that their parents get from the food bank. I wanted to go buy a flat of bread and some sandwich makings and sit at the school to feed everyone, but that's not the best plan. Unless I want to mortify those kids who are hungry.
Instead, I've chosen to donate food and money to our food bank. I also signed up as a volunteer. My 'training' shift was over the summer and Jennifer (and her Mom!) showed me the ropes. We packed bags of vegetables, I got cardboard boxes ready, and I learned about what the food limits were. I also manned the 'bread station' and handed out the frozen breads donated by our local grocery stores (IGA and Nester's), Tim Horton's, and True Grain Bakery.
The AGM was last week and I sat in as a volunteer. There was talk of last year's business, and of the new things coming down the pipe. The President stepped down and called for nominations for a new President. Jennifer and her Mom volunteered to share the job as President and Vice-President. The former President said that a new Treasurer was needed and asked if there were any volunteers. I felt a nudge in my chest, but waited to see if anyone else wanted the position. After a good minute of people averting their eyes and looking at the floor, I raised my hand.
I'm a Chartered Accountant, if you think that will work.
They did. I'm now the Secretary/Treasurer and have a meeting today to learn what my job will entail. I had my second volunteer shift at the food bank on Tuesday (people 'shop' the food bank by appointment on Tuesday afternoons) and I'm starting to get the hang of it. I kind of love that it's a family affair, with Jenn and her Mom and I forming the executive. I have a lot to learn, but I'm excited about some of the things coming down the pipe for the food bank.
I've wanted to write about this for a while now but hesitated because I don't want to be all, LOOK AT ME. Because it's not about me. It's about them.
It's about the single Mom who works, but after paying for things like rent and heat, doesn't have much left over to feed her family. It's about that guy on Disability who would work if he could, but is physically incapable to do so. It's about the kids who rely on the food bank for snacks because their parents are unemployed (or under-employed) despite every effort that they make to be otherwise. Each person who uses the food bank has a story, just like you and I do. The only difference is that they are also dealing with hunger, the likes of which I've never had to deal with.
We live in a great community, as I've stated many times over, and many people in our small town give so much to help feed those who are hungry. There's always a need, though, especially as we get into the colder months and the huge Christmas bounty from last winter is dwindling. The same is probably true in your own community, even if you don't know about it. I didn't know about it until less than a year ago. It's so easy to think that hunger is something that happens in poorer countries, not in a country as rich as Canada (or the United States)(or wherever you live). That's just not the truth.
I called Jennifer to ask her what items are most requested because (I'm still new at this, and) I want to put it out there for those of you who may have a little extra to give to your neighbors in need. She told me that there are paper grocery bags at the grocery stores in town that list the most-needed items, which you can grab and fill (if you feel so led).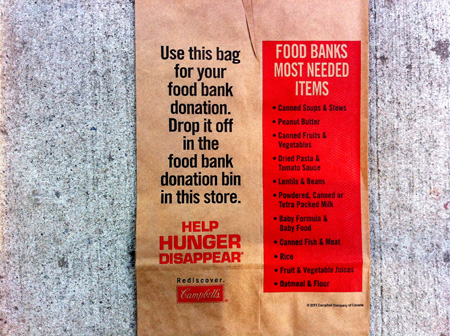 I know from my Tuesday shift that our food bank is completely out of canned fish and peanut butter, which are the two most highly requested items. Almond butter is a close third, for those with allergies. The food bank has cash donations to work with, but we shop locally to support the stores who give to us (and price match) so freely, and we can't justify spending so much on those items. I know that this is an issue nation-wide, so if you see these items on sale and you want to drop them off at the food bank (or in a food bank bin at your local grocery store), know that they will be appreciated.
We also have a 'Healthy Snack Program' for the elementary schools here in town, and we're dangerously low on snack items (Granola bars, fruit snacks, etc.). There's been a request to extend the program to the middle and high schools, but we're not sure how we're going to get there. Yet.
If making physical donations is too cumbersome, you can always donate online at Food Banks BC (my province) or Food Banks Canada. You can make a donation to the food bank in your community, or to the organization as a whole. If you want.
This is (obviously) not a sponsored post, but it's something near and dear to my heart. I've got a bee in my bonnet and I want to feed ALL THE PEOPLE. I can't afford to do it myself, and simply want to bring this issue to the attention of those who may have no idea how rampant hunger is. In North America. In TWO THOUSAND AND TWELVE.
Thanks for listening, friends. I'll step off of my soapbox now.
comment via Facebook
comments