As I mentioned the other day, I had only a few days left of this crazy work contract to plow through. I kept my head down, eschewing frivolous things like Facebook (Sorry, Scrabble friends), Twitter (for the most part) and most things Internet-related that weren't work-related. My intense focus on Tuesday made it possible for me to surprise Matthew with (a quick stop for nachos and beer, and) a late showing of New Moon at our wee local theatre. I've stated it elsewhere, but I'm definitely Team Shirtless (Jacob). Which is odd, because my "type" is usually tall gangly guys. Go figure.
Wednesday was more of the same. Focus, bear-down, GET IT DONE. And get it done, I did. The last assignment was returned, the last email answered, the final report is ready to be sent off. C'est finis!
I have been looking forward to this time for over two months. The last I had talked to my future (Also, past) employer, I would be starting to work full-time for them in mid-January. This meant that I would have a whole month to do what I WANTED.
The work contract arrived in the mail the other day and I ripped it open in anticipation to see what was being offered to me. A great salary! (Get an education, kids.) Full benefits! Extra benefits! Vacation time! A start date of…January 5th. Not quite mid-January (NOT COMPLAINING)(Because a lot of them read my site)(And also because I'm truly not complaining), which means that I have exactly nineteen days off before I return to work in an office full-time for the very first time since having Graham. Seven years ago.
People keep saying that I should use this time to relax and rest and just be. That is so not how I work. There is so much that I want to do and sitting still makes me antsy and frustrated and a little bit annoyed. I only have nineteen days and I want to use them the best way that I can.
I want to learn how my new camera works. She's pretty, she's spectacular, and she's itching for me to dig in and discover the potential that she's hiding inside.
I want to get my book to a place where I can maybe show it to someone other than my husband. I know I haven't really mentioned it since I started, but here's the lowdown: I signed up for NaNoWriMo, even though what I'm writing isn't fiction. I wanted the encouragement and the accountability. I had that, but then I got some sweet freelance work which allowed me to pay for my new camera and, well. I lost momentum. You know how it is when you get so out of the groove that those spare twenty minutes at the end of the day are used for things like showering and eating, or possibly spending "quality" time with your husband? That's where I've been. I want to get back to the book because I'm really excited about it and because it makes my heart a little bit sad that I've let it slide.
I want to read. Not magazines, not nutrition labels, not employment contracts. I want to read books. I've made great strides this year with getting back to my first love of reading (I learned to read when I was three) but I want to eke out more than those ten minutes a night before I collapse in an exhausted heap. I want to fill up my literary well.
I'm looking forward to hosting Christmas dinner. Some (most) people get all a-flutter at the thought of hosting such a big event, but I have a secret to share: I love hosting big dinners/parties. I love the planning, I love the shopping, I love the cooking, I love the baking, I LOVE TO BE THE HOST. I also love to wig out a little mid-prep and wonder WHY I BROUGHT THIS UPON MYSELF, and HOW IS THIS ALL GOING TO WORK OUT and HONEY, CAN YOU SET THE TABLE ALREADY?
It's insanity defined, but I seem to thrive on that sort of thing. I'm nothing if not self-aware.
Above all of that, above all of those things that I want to do for me, I want to spend some quality time with these three.
Graham.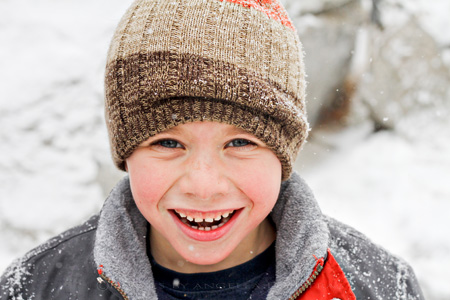 (He'll be seven in twelve days (WHAT?) and has yet to lose a baby tooth. I'm shooting those chicklets as much as I can before he's a gangly-toothed monkey. He's also one of those kids that you meet and say, wait. I had no idea that kids were this awesome.)
Nathan.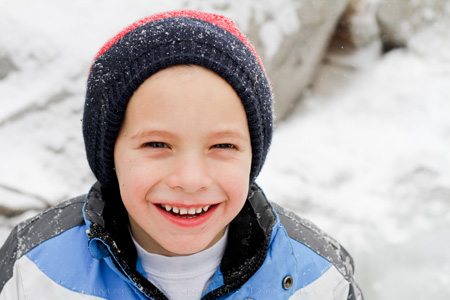 (I wish I could somehow put a bit of his essence into a tube that could shoot across the Internet and send it to each and every person. You would open it; his person would leap out and wrap his arms around you.)
Emily.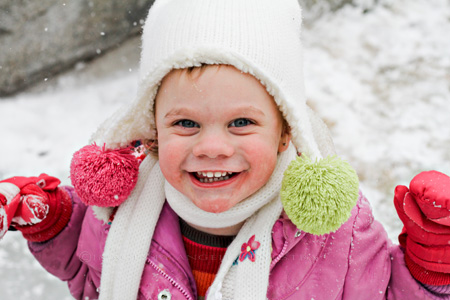 (Oh, gosh. She's feisty, funny and gives the best hugs on the planet. She is that final piece to our family that makes it all make sense.)
I have been lucky to be able to work from home, yes, but I have to admit that a lot of time I have been disconnected and distracted. I want to soak up every minute of the normal every day with them. In a mere nineteen days, life as we've always known it will change. I will be gone before they wake up and won't be home until dinner is on the table. The fact that I am able to provide for my family is a blessing that I am embracing with my entire being I mean it. I'm excited, I'm thankful…but I'm a little bit scared. I'm worried that we won't be the way that we've always been.
Nineteen days. I'm going to squeeze the last drop out of each and every day. And then some.
***
Thanks to all of you who voted last week, as I made it into the second round of the Canadian Blog Awards. I am both flattered and flabbergasted that I made it into the top ten with the spectacular people listed, some of whom I consider to be my friends. The second round ends on Saturday and the inner awkward girl would be oh, so humbled if you would give me one of your votes. The ballot is here.
comment via Facebook
comments