Dear Emily,
Hello my sweet, sweet baby girl. I'm going to apologize in advance for this post. I want to be eloquent and gushy but it's just not happening. I love you so much that sometimes I feel like my heart will literally explode into a million pieces, but I can't seem to find the words today to express that. Or maybe I just did.
You love, love, love to stand. You actually pulled up to standing on the toy box yesterday and held on with one hand while fishing for toys with the other. You were successful in finding something new to chew on.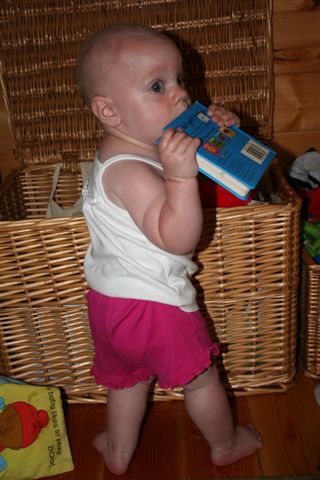 Why is it that you don't like to chew on plastic toys designed for babies? You're much happier chewing on paper, power cords and shoes…especially flip-flops. You must be part puppy or something.
You're not crawling, but have gotten quite adept at scooching around on your bum. One leg goes forward, the other goes back, and you wiggle them and use your hands to get where you're going. Which is usually to get into stuff that you're not supposed to (like paper, power cords and flip-flops). Long gone are the days where you sat like a blob. I miss them…but I don't. Blobs are cute and all, but there's something to be said about a little personality.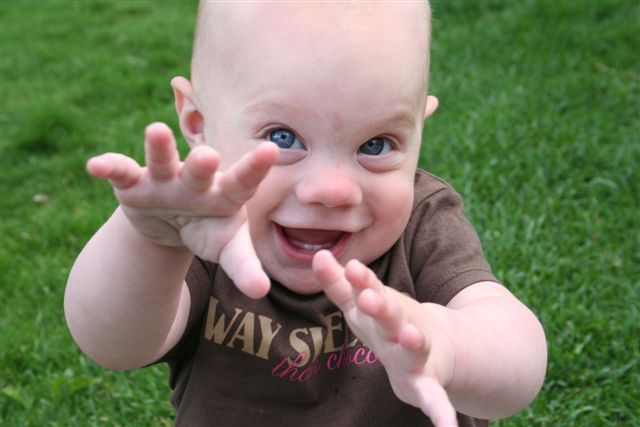 You've been pointing a lot and making this little "e?" sound when you do it. Your pointing started out by using your wrist and it looked like you wanted us to kiss your hand. You've now started using your index finger. You still sometimes use the wrist and I take the opportunity to kiss that chubby hand of yours.
You are still enamored with your two big brothers. You light up when they are around and if they sit and play with you you are simply tickled pink. You're also starting to swipe toys and I find it quite amusing. Before I know it all three of you will be fighting over toys. Awesome.
One of your top middle teeth has broken through. The other one hasn't. I hope it does soon, or you will look like the stereotypical "I Live In The Sticks" type person. In the meantime, I'm trying to catch many a cute picture with those two bottom chicklets you rock so well.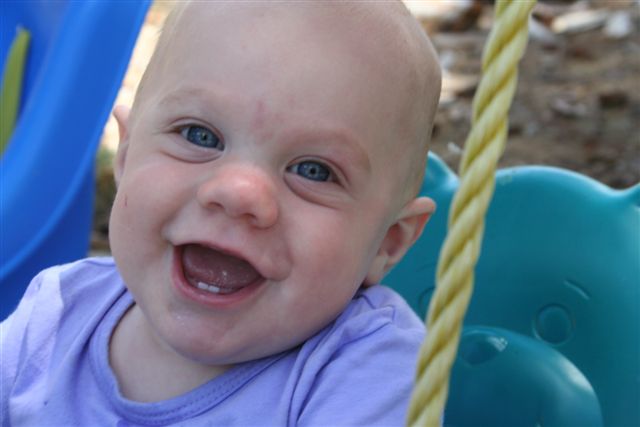 You still have a strong affinity for your thumb. I'm not complaining. It's better that you pop in the thumb than scream and such. I know from past experience that you should be starting all the yelling soon enough. We can worry about breaking the thumb habit when you're older. Besides; how cute are you when you suck your thumb?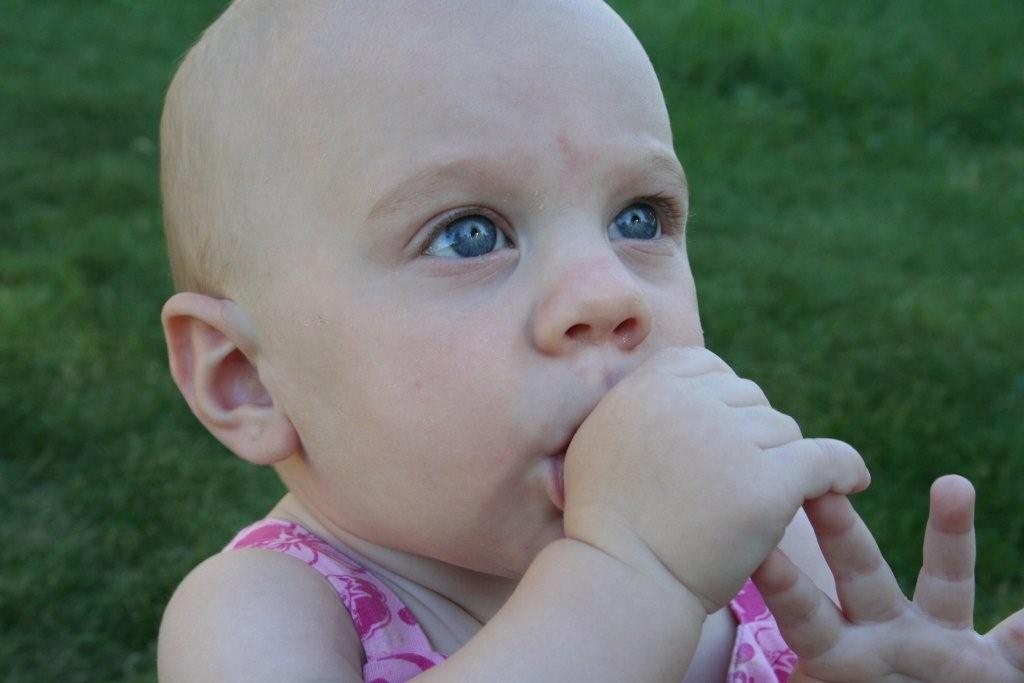 SO cute.
I've been having a lot of fun shopping for you as of late. You were given a few things when you were born, but have been growing like a weed.  Lucky me! I get to buy you stuff and dress you up like the doll you are.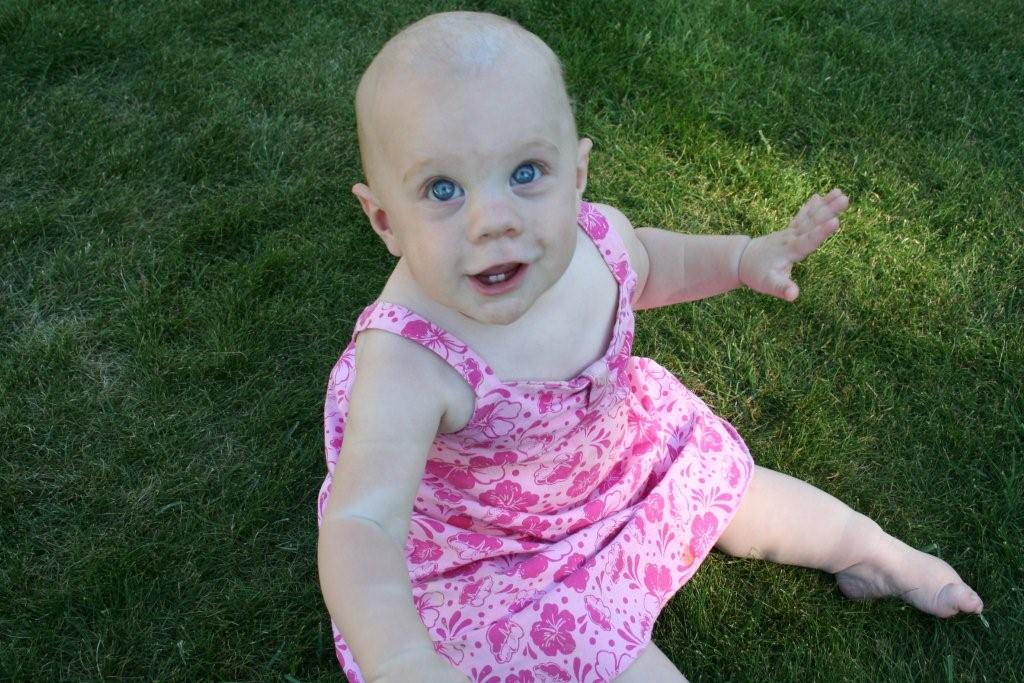 This past month you have also started to have a new favourite parent. Me! You went through a phase where Daddy was your fave, and I expected that. He's my fave too, and the boys prefer him as well. But lately? You will occasionally cry when I leave the room. Not every time, but sometimes, and it makes me feel loved. You still love Daddy too. But you like me more. Finally! One for my team.
It's me and you, baby girl.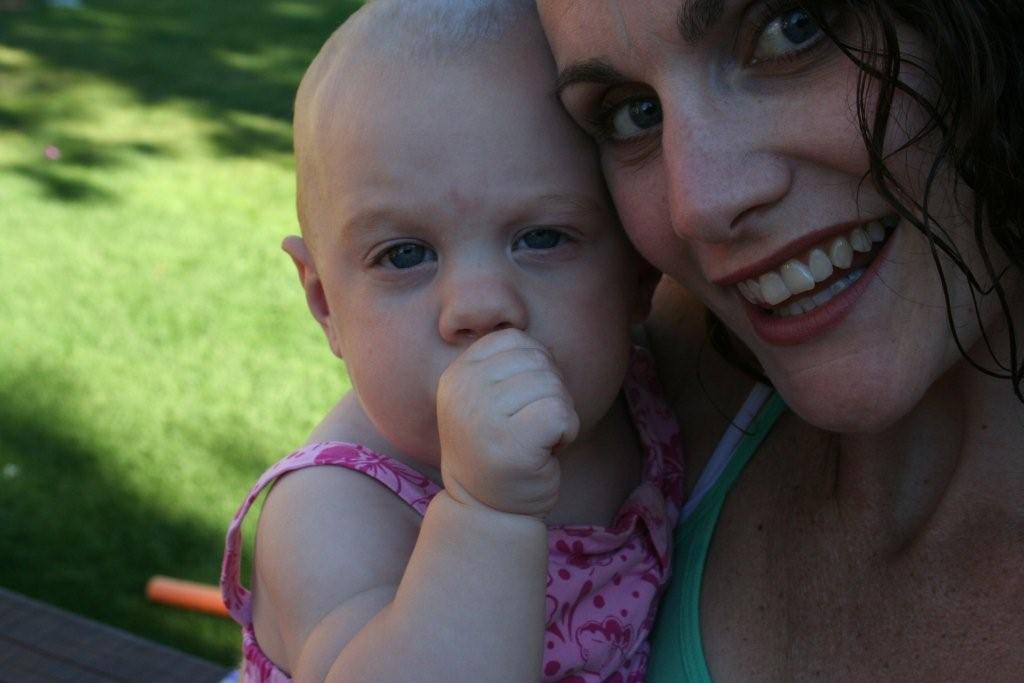 And your thumb.
Love you,
Mommy
comment via Facebook
comments