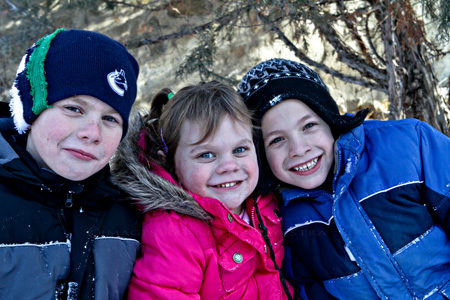 Let's start with stating the obvious: I hate winter.
I hate the snow and I hate the cold and I hate how my fingertips turn white moments within walking outside (Reynaud's syndrome) if I don't wear gloves, even when it's above freezing. I hate how the snow/melting snow/sanding means that my vehicles look like they've been 4×4-ing out in the wild instead of actually just driving to town. I hate how my boots and Emily's tights end up scuffed with dirt and how we have to buy gloves every two weeks because the kids lose them and how you have to put on five layers just to go outside and you have to take off those five layers every time you come inside and GOD FORBID SOMEBODY HAS TO PEE.
I could go on (and on, and on), but you get the point. Heck, we don't get the cold and snow that the prairie folks or those out east get (we tend to hover around or above freezing) but for this cold-blooded woman, it's more than enough.
I hate winter.
The thing is, this winter has been easier on me that the last few years have been. I have struggled with S.A.D. in the past and last winter was particularly awful. I think that returning to an office, as much as I complain about it, has been beneficial. I have to get up and go out and hang out with other human beings not related to me. I also have to wear clothing that isn't yoga pants. I think that it's helped. A lot.
Matthew and I have talked about activities that we could do as a family to break up the winter "blahs". We'll often simply go out into our yard and go sledding (we have a great hill for sledding) or will have snowball fights/build snowmen and whatnot. The thing is, we tend to spend most days under a grey sky and the days that the sun comes out are just better somehow. We may not be able to do anything about the lake fog but we can get above it…
There's a ski hill nearby and we know a lot of families who ski on the weekends (and some evenings). Some people I work with even own condos up there. Now that Emily is the magical age of four (which means she's old enough for lessons) we're thinking we might try the whole "skiing" thing. I did not grow up in a "skiing family" but learned by going with friends during my teenage years and can stay upright. Mostly. Matthew has never skied a day in his life as he was the captain of the high school basketball team and any sport that could risk him breaking his bones was frowned upon. Plus, from what I gather, he spent every waking moment living and breathing basketball with no desire to try anything different. Heck, he only learned to skate two years ago when we build an ice rink on our property.
He's thinking that he may start with snowboarding but I think I'll stick with skiing – I've heard that snowboarding can be hard on your knees and I've had surgery on mine already. We threw the idea out to the kids yesterday and said we could try it in the next month or two. Graham was all cool with a "Sure, I guess" reply (of course), Nathan told us that he wanted to do jumps and back flips (of course) and Emily asked if she could have pink ski poles (of course).
As much as I hate winter, I'm really excited to try it and see if we like it. I love to exercise and if it can be a family deal (as opposed to solo) where we're all outside enjoying the fresh air and sunshine, then I think we might have a winner.
If any of you are skiers/snowboarders and have any advice or suggestions, I'd love to hear it. We're as newbie as they come.
comment via Facebook
comments