As you all know, we went to get our puppy last Friday. What you may not know is that getting said puppy entailed a three-hour drive. EACH WAY.
As we set out to embark on our epic journey, the kids asked Daddy if we were going to set up the DVD player. "Oh, no," was his reply, "We don't need it."
This is where I pointed out that when we make trips to the Coast it takes us just over three hours, and we always hook up the DVD player. ALWAYS. For some reason he thought that this trip would be different; that toys and books and pointing out random farm animals would make the trip OK. I sighed (LOUDLY), buckled the kids in, and resigned myself to a DAY OF HORRORS. I was right. There were tears, meltdowns, a daughter voiding in her car seat. There were endless questions of, "Are we there yet?" There may or may not have been toys thrown in frustration. There were many a few times where I leaned over to my dear husband and whispered (LOUDLY) "I told you so."
OK. That last paragraph was a BIG FAT LIE.  Well, apart from the, "Are we there yet?"
How much farther Papa Smurf?
The kids were amazing. (Please don't hate me.) We had to stop fairly frequently for Miss Potty-Trained, I-Need-To-Pee-Even-If-It's-Only-A-Dribble Emily. There were also two stops that involved children, taking a dump, while their mother helped them hover. DON'T ASK.
Oh! And then there was the fact that I did not want to eat at A&W with the rest of the family because of my stupid (self-imposed) health guidelines. There was an extra twenty minutes added onto trip so that Mommy could FIND A HEALTHY LUNCH OPTION ALREADY.
We finally got to the acreage where our puppy was born. There were two boys for us to choose from and we did not know how to decide. They were almost identical, except that the larger one had some white tufts of fur on his back paws. How to choose, how to choose?
Matthew picked up the smaller one. He snuggled right into his chest then looked up and licked his chin.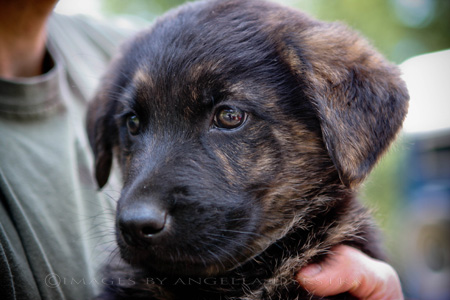 SOLD!
We had brought a crate along. Our new puppy was placed in the crate, the kids were buckled in, and we started the long trip home. Our puppy (Diesel is his name) started to cry. The kids deduced that he was probably missing his family. I agreed that he was probably sad to be saying goodbye to his Mom and Dad, and his brother and sisters.
Nathan started to cry. Big, fat, crocodile tears.
He was heartbroken that Diesel was sad. That he was leaving his Mom and his Dad. GAH! What a tender-hearted kid he is. I explained that this is what happens with dogs. They are born and then get to come to live with new families. That I was now Diesel's Mom, and that Matthew was now his Dad. I said that he and Graham were now Diesel's brothers and that Emily was his sister (A bit of a stretch, yes, as I am not THAT crazy, but it stopped the tears.)
Before we knew it, we were home. We have been getting to know this new member of our family, and he is pretty neat. I'll stop talking and just show you.
The kids like to pick him up.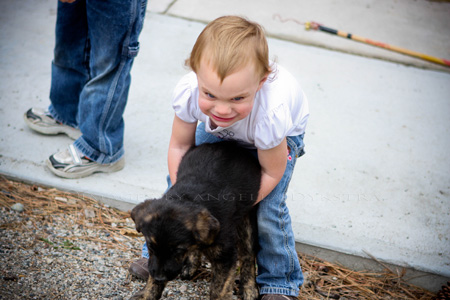 I've told them that it won't be long before he's too big, so enjoy it while they can.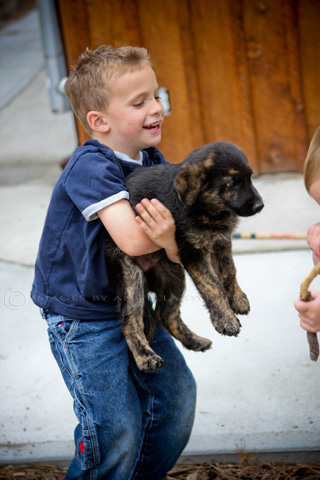 Running: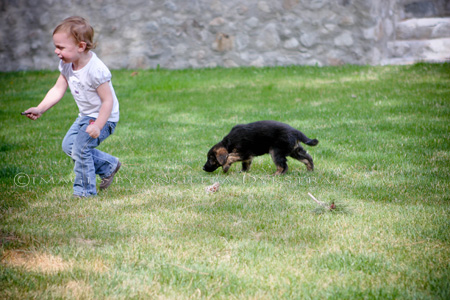 Emily finally managed to pick him up. Doesn't he look pleased?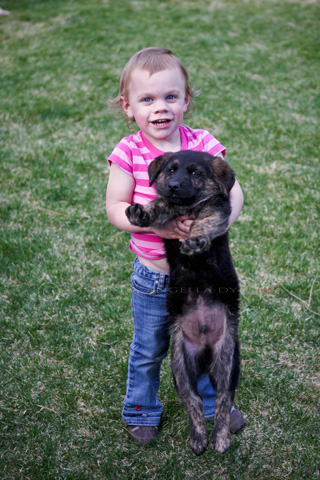 Poor dude.
He sleeps a lot.
Just like a newborn.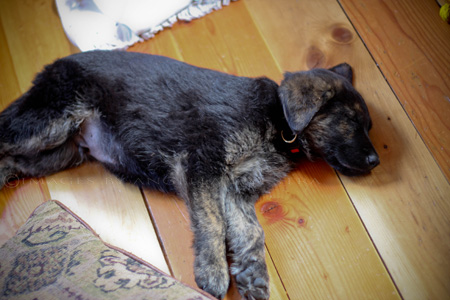 He also cries a lot. Like a newborn.
He likes to chew stuff. This has been a great lesson for everyone (myself included) to stop leaving their crap all over the floor.
Speaking of crap, guess which puppy pooped on Emily's Princess Dress?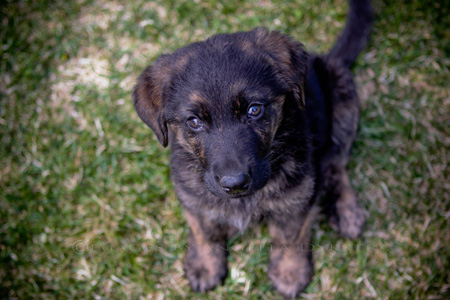 Good thing he's so cute.
We'll keep him.
comment via Facebook
comments