I haven't done many reviews and/or giveaways in my seven years of blogging. I am bombarded daily with spam PR pitches where they want me to promote their product (With high resolution photos!), and despite hitting the 'spam' button in gmail, those wayward emails keep finding their way to my inbox. I do get some great pitches, but sometimes they just don't fit, you know? I am a busy girl (As are we all) and it has to be worth my time. I also don't want to be disingenuous.
Lately, I have received a few emails from people whom I know and trust, and have been asked to review products that I already use and love. In addition to getting free product that I am already a fan of, they are compensating me! (To buy groceries, but whatever. I'm not out-of-pocket!) And letting me give free stuff to one of my lucky readers!
You guys already know that I am a food blogger for General Mills Canada, over at lifemadedelicious.ca. That whole gig came to be thanks to the ladies at Mom Central Canada, who are (beautiful and awesome people, and) my liaison with the General Mills folks. Mom Central Canada often does blog tours for clients, but I rarely sign up due to the products not fitting my life, or plain lack of time. When I saw the email about Club House Flavourful Mixes, I signed up right away. My parents used Club House spices and mixes as I was growing up, and I buy them myself on a regular basis. They sent me three packets each of the 6 Club House Flavourful Recipe Mixes, 3 packets each of the 4 Club House 25% less salt gravy mixes (One of them is for POUTINE, you guys!) and a whole swack of other mixes.
My Type A personality saw me searching for the perfect basket in which to hold all of these mixes. Behold!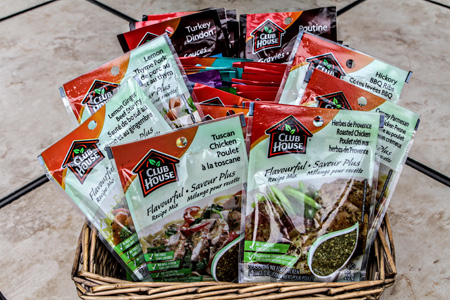 (Skewed mixes for presentation purposes only. Everything was back in its place immediately after I took this photo.)
I decided to make the Herbes de Provence Roasted Chicken first. The instructions on the back of the packet called for boneless, skinless chicken thighs and red potatoes, but I used bone-in chicken breasts and potatoes from our garden.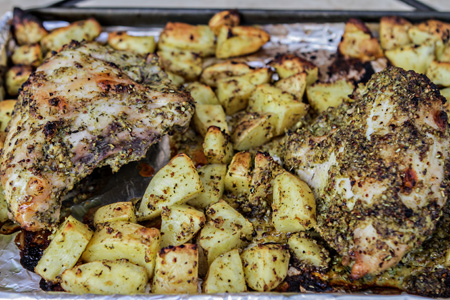 I served it with  green beans with honey-mustard vinaigrette. It was easy and good. Very, very good.
I'm excited about that whole big basket of mixes up there. I am a meal planner, and my fall/winter meal routine just got a huge injection of inspiration. I have salmon on the menu for Tuesday, and I don't like pork (unless we're talking about bacon), so I plan to try the Lemon Thyme mix with my fish. And this coming weekend is Canadian Thanksgiving, so I'll be trying their Turkey Gravy as well. Mmmm…gravy.
Here's the part where I tell you what I have to give away to one of you lucky readers.
A Club House prize pack
A $50 gift card to help you with your grocery bill as you try out new recipes
The contest is only open to Canadian residents. You may enter the giveaway on other sites, but can only win once.
To enter, simply check out the Club House Flavourful Mixes and tell me which one(s) you want to try. That's it!
Contest closes Friday, October 5, 2012. I'll email the winner to get your shipping address. Good luck!
Disclosure: I am participating in the Club House Flavourful Recipe Mixes Blog Tour by Mom Central Canada behalf of Club House. I received compensation as a thank you for participating and for sharing my honest opinion. The opinions on this blog are my own.
***
I went to Random.org and …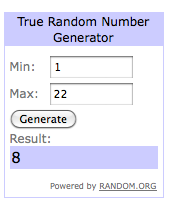 Yay, Adele! You win!
comment via Facebook
comments