It appears that the Internet Rule Of Opposites is at play here. You know the one. You post something on the Internet and then your Life reads what you posted and turns a 180 on you? Like when I said that Foto Friday was a burden and I was letting go? Not quitting, but taking the pressure off?
Well, the pressure lifted and then (thanks partially to some of you) I was inspired! And have ideas! Foto Friday has been revived! New and improved, even! (Like how I have left "Foto Friday" out of the title.)
You are probably reading this and thinking that I am crazy. Can I just say something to clear things up?
I am crazy. Certifiable even. I am also a whole lot of fun at parties.
First, I ordered a new lens!
It is the 24-70mm f/2.8 and it is some kind of special. From what I hear. The estimated arrival date was Thursday and I raced to the mailboxes in the afternoon. NOTHING. In my excitement, I forgot that I live in the buttcrack of nowhere and that mail is never on time.
Sigh.
Hopefully it arrives today and we are getting intimately acquainted while you are reading this.
I have not taken many photos in the past few days. I have been busy with our Company's year-end (Meh) and the Top Secret Project (Woo!). I did post these two photos to Flickr. Click on them to see the commentary.
***

I also took a sweet photo of Miss Emily yesterday. I had to wake her up in order to pick Graham up from school. I flicked on the light, saw her sweetness, and ran back downstairs to get my camera.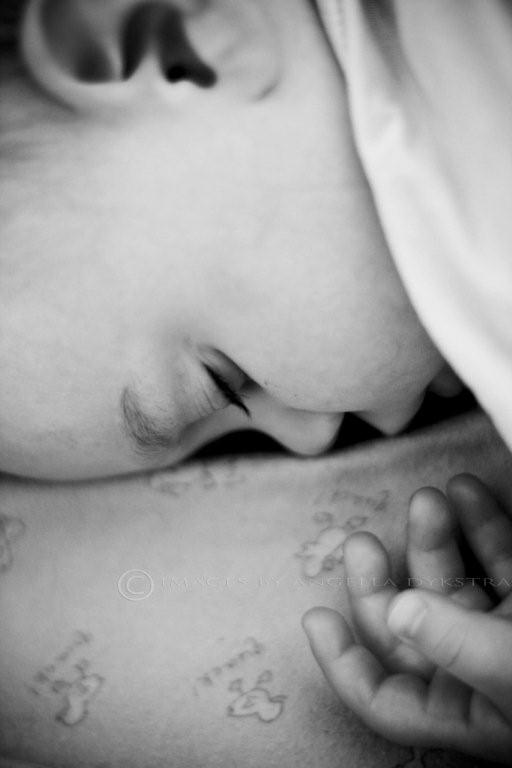 DON'T YOU JUST WANT TO SMOOSH HER? I sure do.
This photo helps to make up for the fact that she yelled at me/threw things at me for most of yesterday.
Dear Emily's eyeteeth: SHOW YOURSELVES.
***
Last fall on one of my Foto Friday posts someone (Was it YOU?) recommended the site Beyond Megapixels. It is run by Lisa and her husband and they give tips, product reviews and more! They are a wealth of photography information. They also shoot Canon, which makes them dear to my heart. It was there that I first read about the Canon 40D and I purchased it shortly thereafter.
The reason I mention Lisa is that I have a growing collection of lenses and accessories. I also have some pretty sweet gigs coming up and need something in which to carry all of my crap photography gear. We emailed back and forth yesterday about bags and she got her from Crumpler USA. She has a bag but wishes she had gotten a back pack.
I chatted with Randi as well, and she just got a backpack from Lowerpro.
I cannot decide which would be better; bag or backpack? If you use one or the other, I would love your feedback. Any brand that you swear by would be a great help too. Because I like to have so many options that I drive myself crazy trying to decide. Hitting my head on the table out of indecision is all sorts of fun.
Since I am all about the linkiness in this post, I thought I should point out that my (outdated, somewhat stale) link list has been added to. I added a section with photography-related links.
I adore work done by blogging friends Heather Hayes, Anastacia Campbell and Melissa Glen. My real-life friend Christy has a photography site of her own, and recommended this site and this one too. Another new blogging/photography friend Holly recommended this one.
Then there is the wonderful Shutter Sisters, with whom I find great joy. This is a site where women come together in order to encourage each other ansdgrow together.
I am inspired daily.
So what I want to know from you (in addition to the above case/backpack question) is this:
Do you have a photography website that I need to know about and link to? If not, are there sites that I should know about because they are THAT AWESOME?
I'd love to know.
comment via Facebook
comments