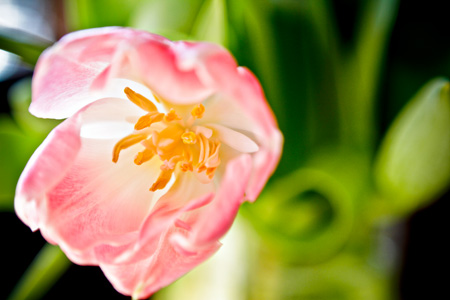 I slipped out of my bed, walked down the hallway and made the left turn into the living room and saw my babysitter sitting on the couch. "Where is my Mommy?", I asked. "She's at the hospital having a baby", was her reply.
That is my earliest memory.
There are other memories from my early years. I don't have many of them, but the ones I have are crystal clear. I remember getting to hold my baby sister as we left the hospital and walked to our car. I remember a laundry fire that was put out almost as soon as it began. I remember swinging on my swing set with friends and it tipping over and everyone but me knew how to jump off of the swings. I remember a Flintstones bottle that my uncle put on top of the cupboard in an attempt to "help" my Mom wean my baby sister from her bottle habit.
I remember sitting on our front step when I was three years old and watching my Daddy drive away. Forever.
I don't remember my parents as a couple.
I went to visit my family back east in my early twenties and spent three nights at my grandparents' house. My Nana handed me a photo album and said that it was mine to keep. It was full of photos of my parents from when they were courting and married and newlyweds and it was then that I realized that I had never seen my parents' wedding photos. They looked so young and so beautiful and so happy. My Nana also gave my my Mom's wedding band and that symbol that had meant to signify forever now stood for, well, I wasn't even sure.
What happened?
Divorce happened, I know. How they went from in love and married to divorced and remarried (a few times over) is really up to speculation. They have chosen to be pretty open with me over the years and have shared stories that truthfully, should probably not have been shared with their daughter. They were trying to find their way and they have a daughter that has always been mature for her age, so I get that. And I don't get that.
I have spent so much time being a parent to my parents. Listening to their grievances and their hurts and trying to play the peacekeeper and trying to acknowledge their issues and love them through it while also trying to see the other side and love the other parent and somehow not get in trouble for being in the middle and loving my parents equally.
Sometimes I get mad that they've put me in this position. They're supposed to be the parents, you know?
I chose a different path than my parents did, not as a judgment of them, but as a hope to have a life less broken. For as much as the world tries to spin marriage as something outdated and divorce as something to be expected, I am a living testament to the fact that divorce does leave people broken. And that marriage is alive and well.
I have found a faith that my parents do not hold. I have married a man who not only shares that same faith, but lives it. We, together, have created these three beautiful children who blow us away daily with their faith and their love for each other and for others. The five of us, as ridiculous as it may sound, are completely enamored with each other. We're not normal, I think, but we're OK with that.
Despite my years of faith, of working through my feelings as a child of divorce, the repercussions are still there.
If my husband and I have a disagreement he cannot walk away, or I immediately feel abandoned. As much as I love my friends and will support them in any way I can, I have to admit that I keep myself at a distance – I can't get hurt if I'm not vulnerable. I am often afraid to put myself out there in a new venture because I am surely set for failure.
I came from broken and there is nothing that I can do to change that. I have committed to keeping our marriage unbroken and our kids will be so much better for it. I'm constantly trying to heal my own broken so that I can be the wife/parent/friend that God intended me to be.
I am no longer broken and am striving for unbroken. I'm not there yet, but I'm close.
comment via Facebook
comments