One of the greatest parts of my night out with Amanda (apart from the pretty make up and good food and great company and GIRL TIME) was the chance to talk. We had an hour's drive each way and witty remarks during the group session and an uninterrupted dinner and a nightcap. Those SIX HOURS (Hallelujah!) together gave us ample time to get past the "how are you?" conversations to something a little more meaningful. I love that I have friends with whom I can share openly with and Amanda is one of those friends where nothing is ever "off the table" for discussion. Our husbands (who are also good friends) know this about us and deal with it. We don't ask about their conversations while on snowmobiling trips, so I think we're even.
One topic that we often end up on is the topic of our bodies. What we like about them, and what we don't like about them. I get so tired of hating my body, you know? And yet I keep perpetuating the cycle by tearing myself down and picking at this pinch of waist flab and that pinch of inner thigh and only seeing what I don't like.
(I feel like I should state for the record that I never say any of these things in front of my children. They will have enough body issues of their own one day; they don't need to be early achievers because of their Mom's stupid insecurities.)
The conversation got honest and we talked real numbers instead of vague references and it was so freeing. I think that I should just get real here in order to give myself a reality check and maybe to give you a glimpse into why body stuff makes me a little bit crazy.
I make reference to being a "big girl." At one point, pre-dietitian, I clocked in at 178 lbs. on a 5'7″ frame.
(This may be the perfect time to interject that I have a large frame. I have had three (Three!) Doctors tell me that I am big-boned and have a large frame but that it is "not the "large frame" that many women claim to have." Two of those three Doctors were men. I'm not sure what the woman Doctor's issues were. Regardless, medical professionals can attest to my thick bones and wide shoulders and child-bearing hips.)
Once I learned about exercise and eating a balanced diet, my body found itself at 140 lbs. This was the same year that I got married and got to wear a pretty dress and feel like a princess.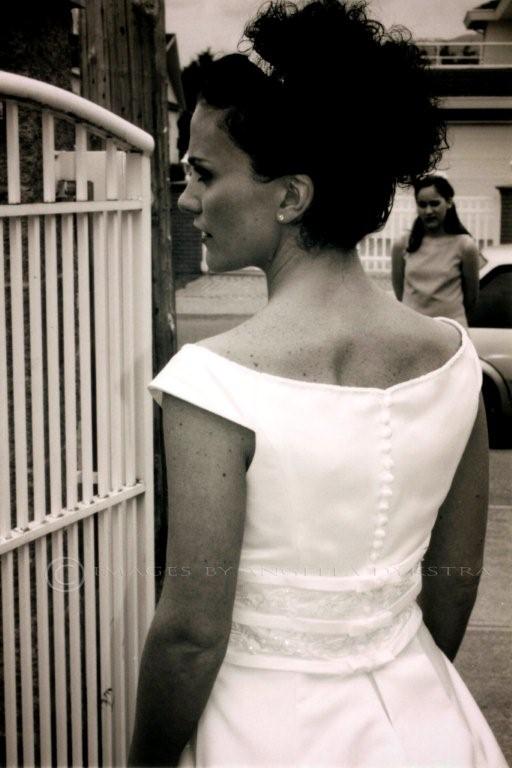 I felt svelte and thin and totally comfortable in my body.
We moved here and I kept eating well and took up other forms of exercise and I still picked myself apart. Before I knew it, I was nine months pregnant, 206 lbs., and 48 inches in circumference. Six months later, I was back to 140 lbs and while happy with my progress, I was still not happy with my body.
Soon after came Baby #2. I kept my weight gain to 28 lbs., and was back to 140 lbs. in no time. When Nathan was almost a year old, we all came down with a horrible flu and I got down to 130 lbs. I managed to keep that weight by keeping my caloric intake to (I'm guessing, here) about 800-1,000 calories a day. For a YEAR. I was gaunt and gangly and skinny. I WAS SKINNY. I had wanted to be skinny my entire life and here I finally was! I was also hungry all day long, but who cared? I WAS SKINNY. My ever-hated inner thigh was all but GONE.
We got pregnant with baby #3 and, again, I kept my weight gain in the 28-30 pound range. I got back to my pre-pregnancy weight in a few months and then when Emily was three months old, I got the flu. Again. My weight dropped to 128 pounds. I was skinny. SUPER skinny. I managed to keep it up for about another year.
But then? But then. I got tired of hearing my stomach rumble. I got tired of being unable to help Matthew move a couch. I got tired of feeling so weak. I've always been so strong. SO STRONG. But I'd given that up.
Three years ago, I signed up for Boot Camp for the very first time. I regained my strength. I can do squats when everyone else has given up. I can do Jumping Jacks (assuming I have emptied my bladder) for many repetitions. My core is SOLID; I can plank like none other. My back is ripped. My biceps are HUGE (Welcome to the gun show). My chest, well. Let's just say that my husband likes it.
As for numbers: I'm in the 140-145 pound range. And yet, a part of me kept longing for the days of tiny jeans and extra small shirts. Where my breast bone is sticking out and I am skinny.
No more. NO MORE. I have a daughter who is built exactly like me. I want to be someone that she can look to as a positive example. She is not scrawny but she is smart and she is tall and she is strong and she is beautiful.
As for me? I am tall and I am healthy and I am strong.
Skinny is overrated.
comment via Facebook
comments