I grew up on the north coast of British Columbia where the majority of "fresh" fruit to be found were waxy Granny Smith apples and rock-hard bananas from the local grocery store.  Our selection of berries in the summer consisted of rubbery strawberries and tasteless blueberries.
There were wild berries that grew around town called "salmon berries".  They neither looked nor tasted like salmon and were actually quite sweet.  I have no idea where the name came from; maybe they went well with all of the salmon available for consumption in a fishing town?
When I moved to Vancouver there were numerous markets that sold real fresh fruit from out in the Valley. The berries burst with flavour, the peaches were juicy, the apples were not coated in wax.  The only downside was the cost.  The prices made purchasing the good fruit a treat for this starving student.
I married Matthew, got my designation and we moved to the Okanagan. Orchards are EVERYWHERE.  From May until October the amount of fresh fruits and vegetables at your fingers (for cheap!) is astounding.
That very first summer I did something that I had never done before. I canned peaches.
(Side note: Why is it called "canning" when you use jars?  Should it not then be called "jarring". Though I guess "jarring" sounds less cozy and domestic and a little more, well, jarring.)
I used my friend Google to see what supplies I needed and how to go about preserving those tasty treats. I blanched, I peeled, I cut, I boiled and at the end of the night I had a counter full of preserved peaches. I was so inspired that I also canned applesauce and salsa. Two winters in a row I added antipasto to the mix (fresh ingredients not required).
This continued for a few years but then I started popping babies out left right and center and could not seem to get it together in order to do some canning. This year, I vowed, would be different. Matthew promised to help me.  We bought a twenty pound box of peaches and let them ripen.
On the day that they were perfect for canning Matthew had to attend a meeting in the evening.  No problem, said I. You go to your meeting and I'll can the peaches after the kids are in bed. Then when I am finished I will do the laundry and edit some photos.  After that maybe I will spend some time on the Internet.
I am completely delusional. Obviously.
I started on my quest to can the blasted peaches and Twittered about it. Before I knew it I was cursing Matthew under my breath elbow-deep in peaches and thought I should vent on Twitter. I logged in and saw a reply by my friend Buzz Bishop where he recommended I watch this You Tube video by the Presidents of The United States of America.
Moving to the country, gonna eat a lot of peaches.
I was instantly snapped out of my grumpy funk. Matthew arrived home shortly thereafter. He rolled up his sleeves and jumped right in while I bossed him around. I played the video for him and we worked as a team.
Millions of peaches, peaches for me. Millions of peaches, peaches for free.
(Sorry. I've been singing it for DAYS.)
When all was said and done and the jars of peaches were lined up like little soldiers on the counter I felt good. Great, even. I had preserved a little bit of summer for us to enjoy when we are buried in snow and cursing the cold.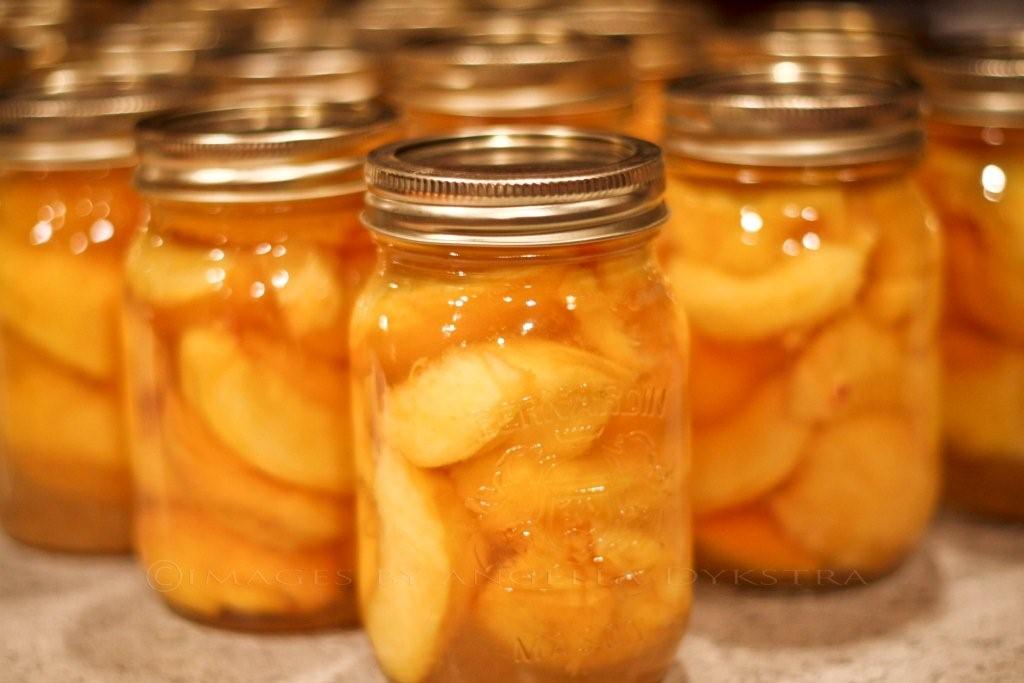 Despite my bad attitude I think it really is worth it to preserve the good stuff.  Have you ever tasted canned peaches from the grocery store? NASTY.
Next on my list is a plum chutney recipe from Karen that is so amazing that words cannot give it justice. I might even make applesauce, salsa and antipasto.  Matthew promises that he will help from the start this time.
Do you have any canning recipes that you do every year, or that you would like to share?
Or do you think I am a crazy lady with way too much time on her hands?
Wait. Don't answer that last one.
comment via Facebook
comments