Before we ever became parents, Matthew and I swore that we would treat all of our kids equally. We are both the Eldest Child and have both reveled in and revolted against what that position in the birth order meant. We are the Responsible Ones; the ones who take care of others, who pay our own way, who did it mostly on our own. While we love the praise for being so independently successful, part of us wishes that we had a break from the role we seem to find ourselves in. We could very well be the way we are regardless of birth order. Either way, sometimes being so grown up and responsible all the time is a little wearisome. Sometimes we envy the position of the Baby.
This is in no way a swipe at the Babies of the families. It's just kind of the way that the world works. The older kids pave the way and the baby seems to have it a little easier. At least it seems that way in the eyes of the Eldest.
Being the ever-optimistic (and delusional) people that we are, Honey and I vowed that things would be different when we had kids of our own. Our kids would be treated the same, regardless of their birth order. They would also be loved equally, though differently. This has worked out, for the most part.
But there is this kid.
Emily.
She is my last child, my only girl, my baby. There's something about who she is and where she is in our family that makes my heart lurch a little more than it usually does.
Throughout the day she will bounce up and down and flap her arms at different things that she deems exciting. Graham used to do the exact same thing. Used to. I can't remember the last time he did it and that realization made me do that whole teary-eyed, heart-clench thing. Verklempt, I believe it is called. It was such a huge part of who he was as a small child and now it's gone. GONE. I have no idea when it left.
I find myself reveling in Emily and her arm flapping because that means that she is still a "baby" and because it reminds me of when Graham used to do the same and and because I don't know when he stopped doing it and because I'm not quite ready for my babies to grow up quite yet.
DEEP BREATH.
I feel like I might focus on her a little harder than I do on the other two. She is the last one to make the trek from baby to child and that means that each and every milestone she achieves is the last one I will will witness. The thing that pierces me the most is that I do not know when the last time for something will be. There are two kids before her who have stopped doing things that they used to do and I cannot remember when the last time they did it was. I just find myself reminiscing about how they used to do or say "that" and am blindsided by the realization that they don't do it anymore. When did it stop? And why couldn't I have known it was the last time so that I could have soaked in the moment a little more than I usually do?
For that very reason I find myself appreciating her not-quite-perfectly-clear speech, her arm flapping and her affinity for her thumb in a different way. These are the last little pieces of babydom that I still get to witness and I want to make sure I linger with them as much as I can before they are gone forever. Before I know it the day will come where I realize that she no longer has the pre-schooler lisp, that her arms no longer flap, that her thumb hasn't found its way into her mouth since I don't know when.
It appears that I have a soft spot for my baby that differs from the soft spots I have from her brothers.
***
I sat down to write a post about Emily's first day at ballet class and that there segment above is what came out. I love/hate it when that happens.
So, yeah. My baby girl had her first ballet class on Saturday.
Sitting with the other dancers, waiting for her name to be called for attendance: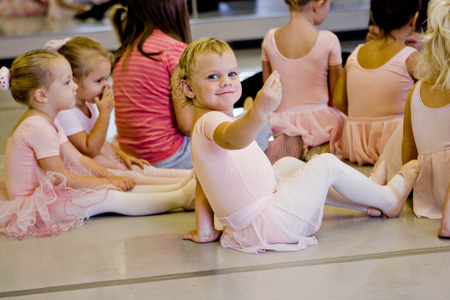 Hands up: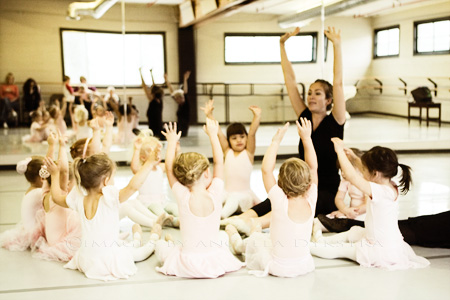 With her good friend (and also, preschool classmate) Avelyn.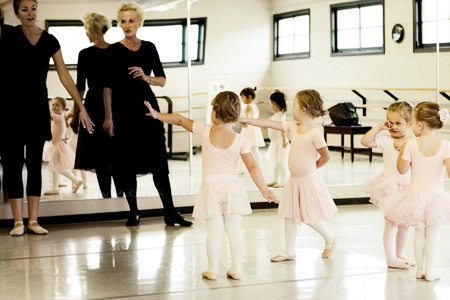 Running around like "bumblebees."
Waiting for everyone else to get their flowers: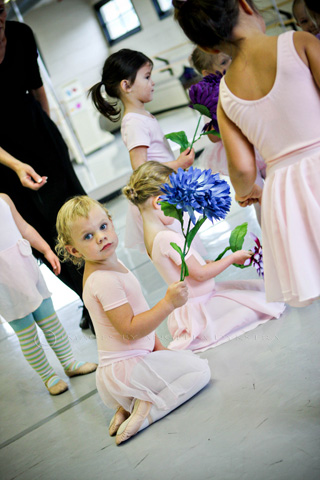 Running on their "tippy-toes":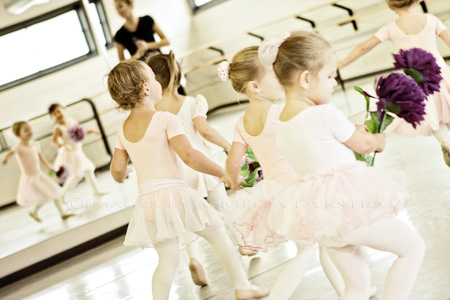 Twirling:
The cuteness quotient darn near killed me.
(More ballet photos can be found on Flickr.)
comment via Facebook
comments