It took me a week, but I drew Jen's name in the draw for Will Dailey's CD.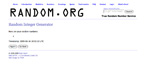 I'll email you, Jen!
After writing that post, Will's PR rep emailed me to ask if I wanted a CD and if I wanted to interview him. I downloaded his album off of iTunes the day it was released, but said that I'd love a copy to give away to my readers. I have never interviewed a musican before (Obviously), so I need help. What should I ask him?
comment via Facebook
comments