Saturday morning was the first official Christmas function that we have attended.  Our church hosts the Angel Breakfast every December.  I was the photographer for the first bit, then got to "just" be a Mom.
There is a photo with an angel…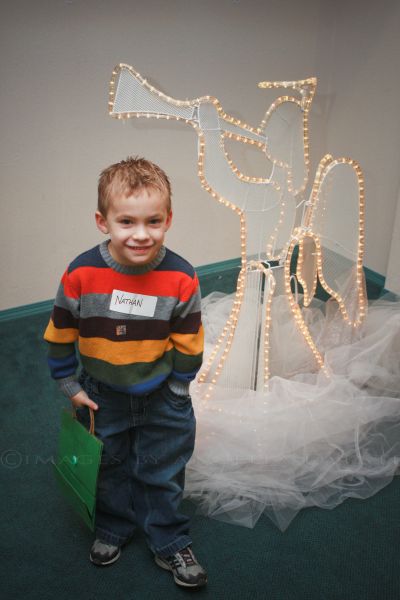 There are crafts…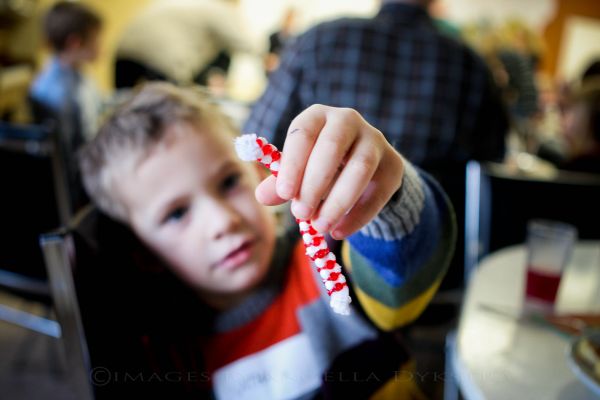 …and then there is breakfast.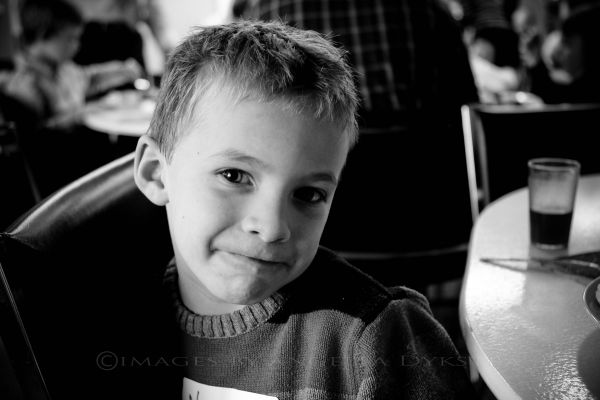 Funny, that. Considering it was the Angel Breakfast.
(Not that he ate any of the breakfast. Not sure how that kid lives on what he doesn't eat.)
I tried to get some photos of our morning together, and got this: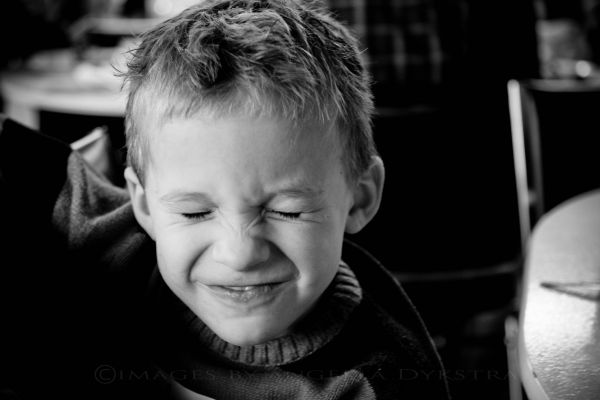 Sigh.
While I watched this four-year-old boy of mine squirm in his seat due to the sheer torture of SITTING STILL, I contemplated the whole Nature of Nathan and what he means to me.
I love him. That is a given.
I remember his birth. It was fast, it was crazy, it was the first time that I felt the "Ring Of Fire". Then he was placed in my arms and I was enamored. A wee baby, beautiful beyond measure.
Who looked nothing at all like me.
He is one hundred and ten percent his Daddy.
I look at him every. single. day…and cannot see myself.  I try. I do. DAILY. But there is not any resemblance to me whatsoever. I see glimmers of my being in his brother and sister but cannot for the life of me see myself in him.  This just makes me want to find a connection in other areas.  In non-external areas.
This is a bit of an issue. For me.
He is a touchy-feely guy. If you have met him, he has probably hugged you.  And possibly kissed you. While I will give a hug when necessary, I am not one to hug random strangers on the street. Nor KISS them.
(NATHAN TOTALLY DOES.)
Finding similarities between us is difficult.  He does things daily (sometimes hourly) that make me wonder if his genetic makeup consists of genes from some random being far back in my family tree.  Who ran willy-nilly everywehere and eventually got hit by a horse and carriage because THEY NEVER LOOKED BEFORE DARTING OUT INTO TRAFFIC.
We can both easily be considered to be quirky.  We have that, I guess.  But even our quirks are so very, very different.
In the midst of contemplating our differences I had a startling revelation.
Despite our differences, he is my kin.  He may not look like me, he may not be like me.
That is all irrelevant.  He is mine.  Flesh of my flesh, bone of my bones.
He is my blood.
I love him.
That is all that really matters.
comment via Facebook
comments