We may currently live in the buttpoke of nowhere in the Okanagan Valley, but once upon a time we lived in the bustling metropolis of Vancouver. I lived there from the ages of twenty to twenty-six, with the last year there spent as a newlywed. Every time I drive back into the city and experience its unique vibe I feel like a part of me is coming home.
When deciding where to go on our first! ever! vacation! that was not wrapped around spending a recognized holiday with extended family, we had originally thought about going to Mexico. We could easily buy a second house for the cost of taking the five of us to Mexico so, no. We asked the kids where we should vacate to and they instantly replied, "VANCOUVER". They wanted to take in some of the attractions that their friends had gone to and I hadn't been to a couple of them in the six years I lived there and, so. We made plans.
Before we started being the tacky tourists that you know we were, we stopped in at Matthew's grandparents to (see them, and) enjoy their pool.
The two of them never use it themselves but their kids and grandkids and great-grandkids who live nearby are over there almost every day. We got to catch up with (Matthew's) aunts and uncles and siblings that we rarely see while the kids flew through the air…
and jumped into the water
and played with their cousins
Speaking of (Dykstra) cousins, the kids see the two who live here pretty frequently but we only see the other ones a few times a year.
You'd never know it by how famously they all get along.
The three full days we spent in Vancouver were packed with visiting tourist attractions. Saturday was spent at Science World.


It was fun and super and amazing and whatnot, but was considered to be only slightly more exciting than the Sky Train in my kids' eyes.
Who knew public transportation was so exciting?
Sunday was spent at the Greater Vancouver Zoo, walking and taking photos of everything that we saw.
See? Tacky tourists. (I kind of love this photo.)
Filed under: I am easily amused:

Filed under: I'm glad there's a fence between us:
Monday was spent exploring Stanley Park, including the Aquarium. I had never been there before and I have to say that, despite the crowds, it's worth the money to go to there.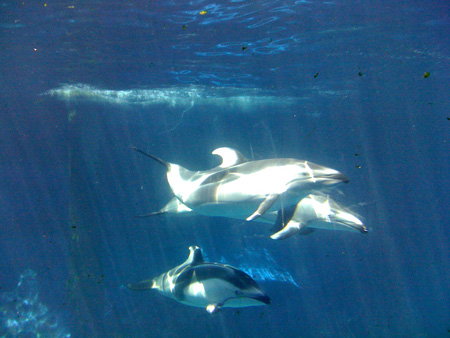 The kids loved it too. Can't you tell?
Seriously.
Our days were full of tourist attractions and our evenings were full of family dinners and I even managed to sneak in hosting the pre-BlogHer meetup while in Vancouver.
While I do love (cities in general, and especially) Vancouver, after four nights of fighting crowds and navigating traffic and finding parking and listening to sirens wail all night long…I was done. We were done. And so, we left Vancouver a day earlier and made a run for the border.
I've rambled on long enough and I have a lot to say about our time spent south of the border, so I think I'll save the second half of our trip for another day. It only gets better from here, if you can even believe it.
comment via Facebook
comments