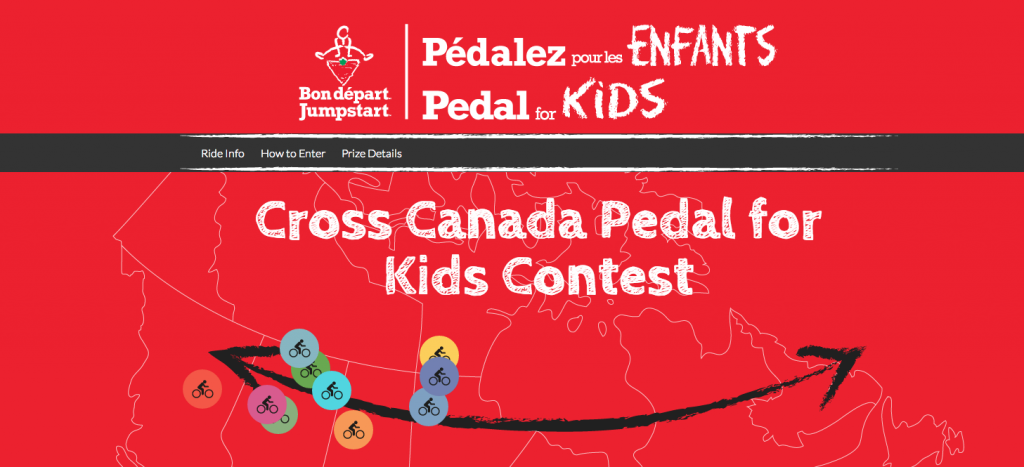 Last year, I was contacted by a representative of Canadian Tire to see if I was willing to write about how to be active outdoors in Winter for a feature they had on their website. You guys know that I am an active girl, and that we are an active family, and that we ski/I run during the Winter. Of course I wanted to be a part of it, and I was. Winter doesn't need to mean the end of being active!
I was contacted again to see if I wanted to write about their Jumpstart campaign called Pedal for Kids. As someone who loves to encourage kids to be active, be it my kids or kids in our community, I didn't hesitate to say yes. This is a program that I can totally get behind. Let me tell you why.
In Canada, summer break is almost over, and school will be back in session soon (Maybe, if you live in B.C.), and fall sports will be starting up for the kids. Well, the kids who can afford them will be participating, but there are many other kids who do not have the means to join organized sports. 1 in 3 Canadian families cannot afford to enrol their kids in organized sports or physical activities. 1 in 3.
Canadian Tire Jumpstart is a nationally registered charity dedicated to removing financial barriers so kids across Canada have the opportunity sign up, be involved, and get moving. In B.C. alone, they have helped 93,000 kids (!), distributing $7.8 million dollars (!) between 2005 and 2013. Canadian Tire covers all of the administrative costs, and 100% of customer donations go directly to help kids in financial need participate in organized sports and physical activity
Jumpstart runs a Pedal for Kids campaign, which is happening shortly. What is this campaign about? Here is how they describe in on their website:
Jumpstart Pedal for Kids is a 5 day 500km cycling tour which each year takes place in a different part of Canada. This year Canadian Tire Dealers, corporate employees across the enterprise and friends of the corporation will ride from Ottawa to Quebec City. The goal of the ride is to raise over $675,000 to help get kids off the sidelines and into the game. In 2014 there will be a 1 day 100km ride option from Ottawa to Montebello, QC or Trois-Riviéres to Quebec City.
The ride starts September 15th, 2014, and 100% of all donations raised will go directly to Canadian Tire Jumpstart.
There's also a Pedal for Kids Cross Canada contest, which you can enter HERE:
There is a bike that moves across the map (Pick mine!) on the contest website and by entering the contest you will have the chance to win one of ten (TEN!) Schwinn bikes that will be given away.
Go! Enter to win! And if this is a cause you want to support financially, feel free to do that as well. I did.
I am taking part in the Canadian Tire Jumpstart Pedal For Kids blog campaign. While I have received compensation as part of my affiliation with this program, the opinions shared are my own.