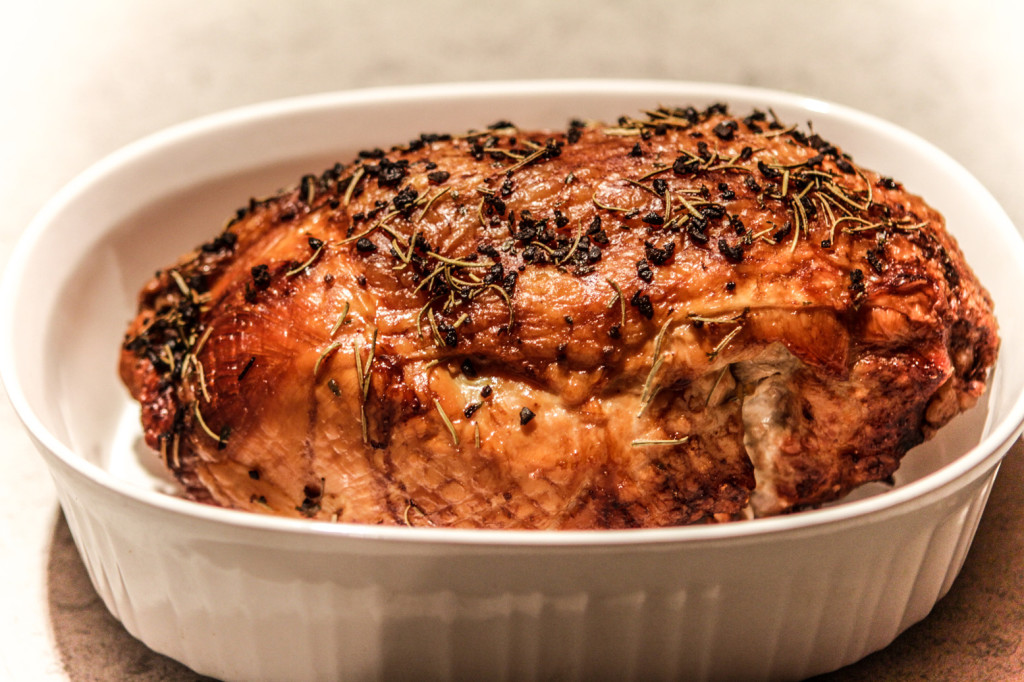 It's no secret that I'm a food blogger over at General Mills Canada's site lifemadedelicious.ca, and that with my new contract I not only share my recipes over there, but I share their recipes over here. This is a new development this year and I have to say that it's one of the reasons I signed on again. Life is so busy that it can be easy to fall into a rut (Though you will never take Taco Tuesday away from me. Never ever). Agreeing to try one of the recipes at Life Made Delicious means that I take some time to look through recipes, choose something I've never made, and try it out.
When I saw the recipe for Oven Roasted Turkey Breast I realized that I didn't know that buying turkey roasts was even possible. I cook a full turkey dinner a few times a year (Easter, Thanksgiving, Christmas, Random Day I Want A Turkey Dinner), but honestly — hand-to-chest — did not know I could buy a turkey roast. (Did you know? WHY DIDN'T YOU TELL ME?)
I invited my brother over to join us for dinner this past weekend and had him carve the turkey roast. First, he was blown away by the fact that a turkey roast existed. (ME TOO.) Second, he could not believe how well it carved. Third, we all were amazed at how easy it was to have a turkey dinner with less fuss. (No stuffing crevasses!)
Here is the recipe from the site:
***
Ingredients:
1 bone-in whole turkey breast (4 1/2 – 5 lb/2 – 2.5 kg), thawed if frozen (I bought a boneless one, because that's all I could find)
1/2 cup (125 mL) butter or margarine, melted
1/4 cup (50 mL) dry white wine or apple juice
2 tbsp (25 mL) chopped fresh thyme leaves or 1 1/2 tsp (7 mL) dried thyme leaves (I used dried.)
1 tsp (5 mL) salt
1 tsp (5 mL) paprika
2 cloves garlic, finely chopped
2 tsp (10 mL) cornstarch
2 tbsp (25 mL) cold water
Instructions::
Heat oven to 325ºF. Place turkey, skin side up, on rack in large shallow roasting pan. Insert ovenproof meat thermometer so tip is in thickest part of breast and does not touch bone. Roast uncovered 1 hour.
Mix butter, wine, thyme, salt, paprika and garlic. Brush turkey with half of the butter mixture. Roast 30 minutes; brush with remaining butter mixture. Roast about 1 hour longer or until thermometer reads 165ºF.
Remove turkey from oven and let stand 15 minutes for easier carving.
Meanwhile, pour pan drippings into measuring cup; skim fat from drippings. Add enough water to drippings to measure 2 cups. Heat drippings to boiling in 1-quart saucepan. Mix cornstarch and 2 tablespoons cold water; stir into drippings. Boil and stir 1 minute. Serve with turkey.
***
It was absolutely delightful, you guys. It will now be on regular rotation over here.
Have you cooked a turkey roast? Do you have any tweaks (or sides) you could suggest?