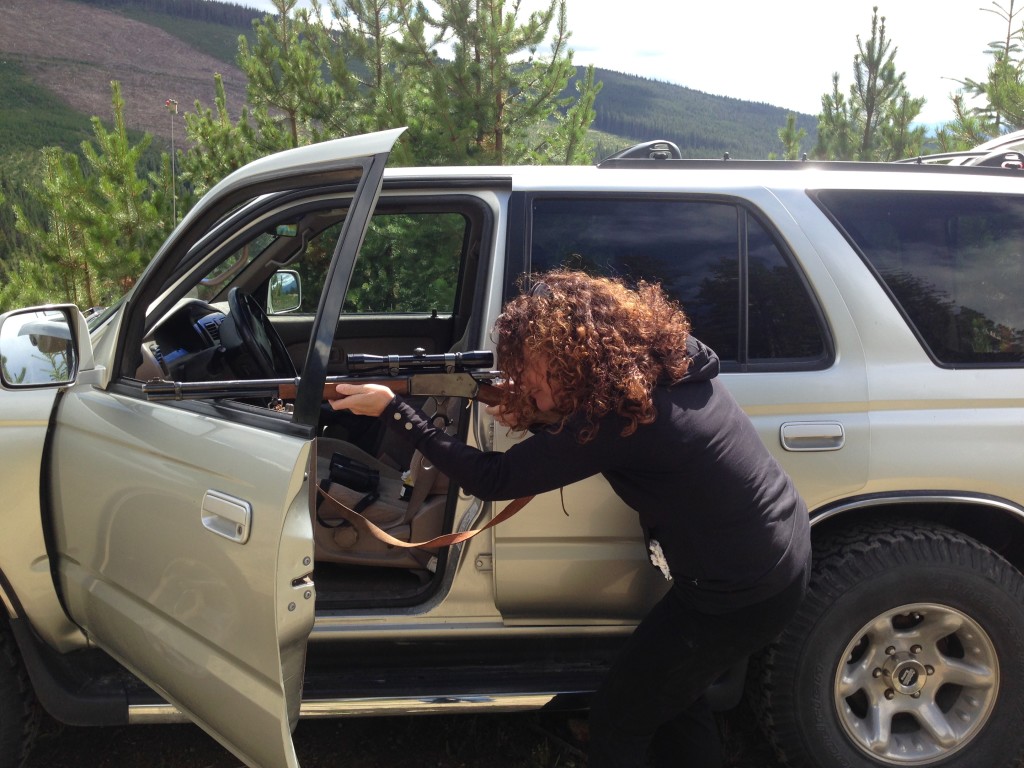 I've written about Matthew's hunting expeditions a bit, and shared even more on Facebook and Twitter. We're doing our best to be organic with the meat we consume (Yay, chickens!) and hunting falls into that ideal. He harvests an animal (I used to say he "caught" an animal, but I finally learned the lingo because he's not hugging the animal. He's harvesting it), and that meat fills our freezer.
A few months ago he suggested that I, too, get my hunting license. I'm not sure how it works in other countries, or even other Provinces, but there are certain open seasons for certain game. There are also "lotteries" that you can enter for other game. When I have my hunting license, that doubles our chances of winning on of those special tickets. I know our license is a federal one, but many other Provinces require people to wear bright orange hunting gear. (Not required here in B.C.)
I know that guns and such are totally different in the States, and it's something that is written into your Constitution. The 2nd Amendment, I believe? The right to bear arms? I also know that there's a lot of contention about guns in the States. Here's where Canada is yet again different from the U.S., even though we seem similar on the surface. We have regulations that don't exist below the 49th parallel and the statistics about homicides that exist in the U.S. were mind-blowing. I love America, but Canada is so much safer.
In Canada, you have to take a Firearms Safety Course before you can even buy a firearm. We spent a long day going over the course materials, wrote the written exam, and then I went back today for my allotted time to do my practical test. I had to load and unload firearms, show that I could PROVE, among other things. I passed with flying colours, and will send in my paperwork to get my firearms license. In a few weeks, I'll take the hunting course, which will allow me to hunt game (or accompany Matt while he hunts game).
I took the course with my brother and a few good friends and I think it's something great to have in my back pocket. The more you, you know? I also think it bumps up my badass factor, which is never a bad thing.